Toronto Journal of Theology
Image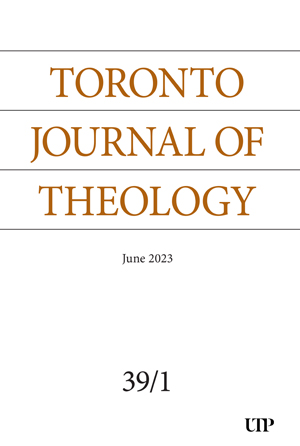 Published bi-annually by the University of Toronto Press Inc. for TST, the Toronto Journal of Theology (TJT) provides a Canadian forum for discussing theological issues in cross-cultural perspectives, featuring pertinent articles, in-depth reviews and information on the latest publications in the field.
The Journal is a progressive, double-blind refereed journal of analysis and scholarship, reflecting diverse Christian traditions and exploring the full range of theological inquiry: Biblical Studies, History of Christianity, Pastoral Theology, Christian Ethics, Systematic Theology, Philosophy of Religion, and Interdisciplinary Studies. It is of critical interest to academics, clergy, and lay and professional theologians. Anyone concerned with contemporary opinion on theological issues will find the journal essential reading. The Journal is available in print and online.
The TJT publishes two issues a year, each with articles and 15–20 book reviews. And, on occasion, a third issue is published as a special supplement.
Visit the TJT website to subscribe, and to access articles and back issues.
Prof. Abrahim Khan, General Editor 
khanah@chass.utoronto.ca | 416-978-3039