TST Graduate Students' Association
Image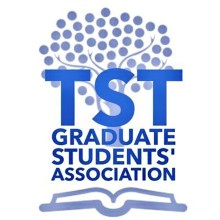 The TST Graduate Students' Association (TGSA) exists for the benefit of all graduate students at the Toronto School of Theology. Whether full-time or part-time, all graduate students enrolled at any TST member college are members of TGSA, pay fees to TGSA and can nominate and elect their fellow students to the TGSA Board.
As described in the TGSA Constitution, TGSA provides a forum for the expression of student concerns, acts as a liaison with TST administration, and provides student representatives to TST academic councils and committees. TGSA also encourages cooperation and community between students and faculty, promotes the social and political participation of students, and organizes opportunities for student academic and professional development.
TGSA communicates with the TST community through the TGSA website, Facebook group, and Twitter feed, as well as the TST graduate degree student email listserv.
2023-2024 TGSA Board
Executives
President – Maureen Ononiwu (2023-2025)
Treasurer – Vacant 
Vice President Academic – Christine Way Skinner (2023-2025)
Vice President Conferences – Li-Wei Liu (2023- 2025)
Vice President External – Susan McElcheran (2023-2025)
VP Communications – Vacant
Program Representatives
Master of Arts – Vacant
Master of Theology – Vacant
Doctor of Ministry – Vacant
College Representatives
Emmanuel – Vacant
Knox – Vacant
Regis – Patrick Nolin (2022-2024)
St. Michael's – Rosemary Boissonneau (2022-2024)
Trinity – Vacant
Wycliffe – Vacant
Non-Voting Officers and Guests
Secretary – Bohdan Hladio
Chief Returning Officer – Vacant
Social Chair – Vacant
Advocacy Chair – Vacant
UTSU Director – Vacant
External Committees
Graduate Studies Council and Academic Council – Christine Way Skinner
Board of Trustees, invited guest – Maureen Ononiwu