Handbooks
Image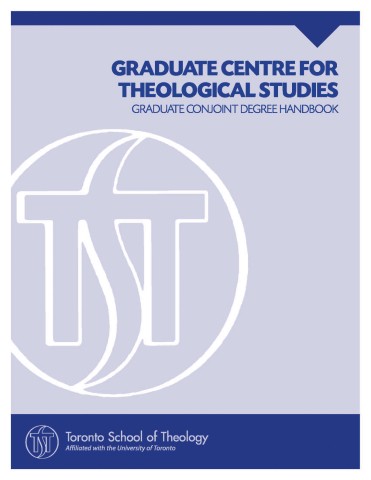 The Basic Degree Handbook and program-specific handbooks for the Graduate Degree programs (PhD, DMin, ThM, MA) are available for reference and download below. Hard copies of current handbooks can be purchased from the Graduate Centre for Theological Studies (GCTS) Office for $15 per copy (personal cheque, money order, or exact cash).
During the course of a student's program the appropriate sub-committee of Academic Council will make decisions about requirements, policies or procedures that will result in changes to Handbooks. With respect to program requirements, a student is normally governed by the requirements that were in place when he or she first registered in the program. Students cannot be bound by changes in subsequent program requirements, though they have the right to opt into any change if they wish. Most changes in policy and procedures will be applicable to all students once they have been incorporated into the Handbook, especially those that involve TST structures (e.g., committees, thesis defence procedures) or that are mandated by the terms of the Association of Theological Schools accreditation requirements (e.g., course or program evaluation) or TST's affiliation with the University of Toronto (e.g., appeals process). It is the student's responsibility to stay informed about changes to the Handbook and to seek advice when uncertain which edition of a Handbook is applicable.
Current Handbooks are available below for reference and download. If you are interested in a previous year's handbook, refer to the Handbook Archives. If you do not find the year for which you are searching, please contact the GCTS Office.
Regarding the Basic Degree Handbook
Throughout TST, the member colleges agree on a common calendar of academic dates, a common course timetable, share educational resources, collaborate on instruction, determine common minimum academic standards, and decide on many common policies and procedures. The Basic Degree Handbook, found below, is the principal statement of these common understandings for basic degree teaching. It does not, however, give specific information about any actual basic degree program. For information about the admissions requirements, educational purposes and curricular structures of a specific degree program, refer to the academic calendar of the member college that offers the program.
Grievances
For Grievances related to any member of the TST faculty, staff or student body (graduate degree and basic degree students), please refer to this excerpt from the 2018-19 Graduate Conjoint Degree Handbook. 
Current Program Handbooks for Reference and Download
Graduate Conjoint Degree Handbook 2023-24 (PhD, DMin and MA) 
DMin Handbook 2020 Supplement FOE Option 1
MPS SCP Certificate Handbook 2023-24
ThD/PhD (USMC) Handbook 2019-20