Wycliffe College
Date
Date of Event:
Wednesday, November 22, 2017
Time
Where
Founders' Chapel, Wycliffe College
5 Hoskin Avenue
Toronto, ON M5S 1H7
Contact Info
416-946-3535
karen.baker@wycliffe.utoronto.ca
Event Attachment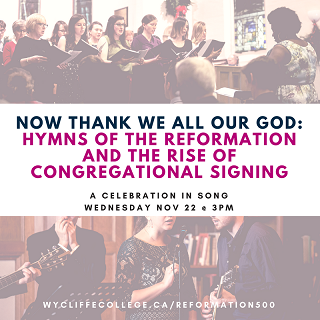 Event Details
The Wycliffe College community will join in this celebration in song of hymns inspired by Reformation ideals. This event will start with a theological introduction and will be lead by organist-choirmaster Giles Bryant.
This event is part of the Reformation 500 Celebration at Wycliffe College. For more information click here or on the Event Website Link above.