Image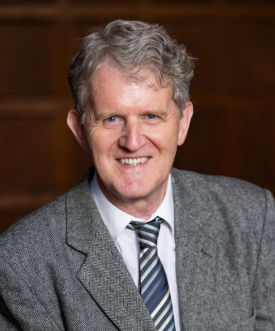 Bio
Tom Power hails from Ireland, where he was educated at Trinity College, Dublin. He has taught history at the University of New Brunswick and the University of Toronto. In 1998 he joined the faculty of Wycliffe College as college librarian, and he continues as theological librarian in the John W. Graham Library.
As adjunct professor of church history, Tom teaches courses focusing on 18th- and early 19th-century church history and Irish Christianity. He also coordinates the program of online courses at Wycliffe. His current research interests include the history of theological education in the early 19th century, specifically the School of Divinity at Trinity College, Dublin, the Irish religious diaspora, and millennialism in the period 1790-1850.
Tom and his wife, Marlene, have two children.
Specializations

Christianity in Ireland
History of Millennialism in Britain and Ireland, 1790-1850
History of Theological Education
Ministry and Technology
Research and Writing
Research Methods

Publications

1825: The Apocalypse in Ireland (forthcoming)
Trauma and Survival In The Contemporary Church: Historical And Missional Responses In The Anglican Tradition (co-ed.) (forthcoming)
Faith, Famine, and Faction: Religious Conflict in an Irish Mining Community, 1847-1858 (2020).
A Flight of Parsons: The Divinity Diaspora of Trinity College Dublin (ed.) (2018).
Confronting the Idols of Our Age (ed.) (2017).
Reformation Worlds: Antecedents and Legacies in the Anglican Tradition (ed.) (2016).
Change and Transformation: Essays in Anglican History (ed.) (2013).
Guide For the Christian Perplexed (ed.) (2012).
Forcibly Without Her Consent: Abductions in Ireland, 1700-1850 (2010).
Converts and Conversion in Ireland, 1650-1850 (ed.) (2005).
"Publishing and sectarian tension in south Munster in the 1760s" Eighteenth-Century Ireland 18 (2004).
Land, Politics and Society in Eighteenth-Century Tipperary (1993).
Waterford: History and Society (ed.) (1992).
The Irish in Atlantic Canada, 1780-1900 (1991).
Endurance and Emergence: Catholics in Ireland in the Eighteenth-Century (ed.) (1990).
Entries in the Dictionary of National Biography (2004) and Dictionary of Irish Biography (2009).
General editor of the series Wycliffe Studies in Gospel, Church, and Culture.
General editor of the series Wycliffe Studies in History, Church, and Society.