Image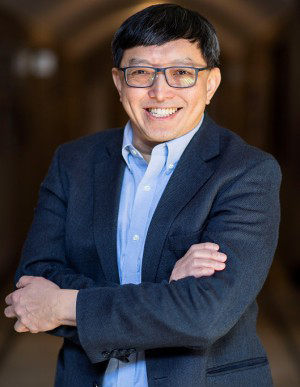 Bio
Dr. Lim, Swee Hong is the Deer Park Associate Professor of Sacred Music at Emmanuel College, and the Director of the Master of Sacred Music Program. Before joining Emmanuel on July 1, 2012, Swee Hong served as an Assistant Professor of Church Music at Baylor University, Texas. Prior to his work at Baylor, he served as a Lecturer of Worship, Liturgy, and Music at Trinity Theological College in Singapore.
Swee Hong is widely utilized as a leader for global seminars and conferences dealing with worship and sacred music. Presently he is the Director of Music for the 11th General Assembly of the World Council of Churches set to convene in Karlsruhe, Germany in 2022 and the Director of Research for the Hymn Society in the United States and Canada. In 2013 he served as the Co-Moderator of the Worship Committee for the 10th General Assembly of the World Council of Churches for its meeting in Busan, South Korea and was a member of the Worship Planning Committee for the 2011 Ecumenical Peace Convocation sponsored by the World Council held in Jamaica. From 2006 - 2011, he chaired the Committee on Worship and Liturgy for the World Methodist Council, designed and supervised the worship services of the 20th World Methodist Conference in Durban, South Africa.
Swee Hong holds a PhD in Liturgical Studies from Drew University, where his dissertation won the Helen LePage and William Hale Chamberlain Prize for Outstanding Dissertation. He also holds a Master of Arts in Sacred Music from Perkins School of Theology. He completed his undergraduate work in Church Music at the Asian Institute for Liturgy and Music in the Philippines. Swee Hong is well-published in global music, with his monograph, Giving Voice to Asian Christians, especially known among global musicians. He is also a prolific composer of congregational songs.
Swee Hong's research area is in Postcolonial Contextual worship music practices particularly in Asia, and Contemporary Praise & Worship music-making in North America. In this area, he examines how worship music-making is shaping Christian identity and spirituality. In his teaching, Swee Hong is passionate in helping students understand the context of worship music making and being equipped with the necessary skill set to carry out their pastoral music leadership responsibilities. To that end, he encourages students to participate in academic conferences and submit their research efforts for publications.
Specializations

Sacred Music
Liturgical Studies
Practical Theology

Publications

Books:

Music Compositions:

"Come, Holy Visitor" (HOLY VISITOR).
"For Everyone Born, A Place at the Table" (KARIBU). "This was the Moment" (KARANGA).
Shirley Erena Murray, Life into Life: New and Collected Hymns (Carol Stream, IL: Hope Publishing Co., 2019)
"Sing for Me When I Cannot Sing" (BERNYANYI). Pulse and Breath: Hymn Texts by Adam Tice. (Chicago, IL: GIA Publications, Inc., 2019)
"Advent Wreath Hymn" (YOUR CHURCH AWAITS); "Breath of Christ" (BREATH OF CHRIST). Breath of Christ; Hymn Texts by Alan Hommerding. (Franklin Park, IL: World Library Publications, 2019):
"Deep in the Human Heart" (NGAKAU NIWHA). WLP Choral Series. 009449. (Franklin Park, IL: World Library Publications, 2018)
"In the Stillness of this Hour" (AMAITI).
"Justice Like a River" (EIRENE).
"Planter of Gardens, Sender of Rain" (SEONGJANG).
"We Give You Thanks for Every Faith" (GANEN).
Dan Damon, My Child is a Flower: Seventy New Hymns, Chants, and Arrangements

.

(Carol Stream, IL: Hope Publishing Co., 2017)
"Love Consecrates the Humblest Act

.

" Parish Choral Series. MSM-50-3103. (St. Louis, MO: Morningstar Music Publishers, 2017)

Essays:

"We're all 'Bananas and Coconuts': Congregational Song in the Global South." International Journal of Practical Theology. 23:1, 2019, 136–156.
"Postcolonial Congregational Song." Hymnists and Liturgists: Historical and Theological Introductions. Mark Lamport, Benjamin Forrest, and Vernon Whaley, eds. (Eugene, OR: Cascade Publishers, 2019)
""Where is our song going" vis a vis "Where should our song be going?": The Trajectory of "Global Song" in North America."

The Hymn: A Journal of Congregational Song.

69:2, 2018, 8-11.

"Blessed Are the Poor: Lessons from the Music of the Global South." The Yale ISM Review. Vol. 4: No. 2 (2018), Article 4.
"History of Praise and Worship Music." Voices United. Season 1 Episode 3. Podcast, Ben Brody, ed. (Dallas, TX: The Center for Congregational Song, 2018)
"Just Call Me by My Name: Worship Music in Asian Ecumenism." The Ecumenical Review. 60:4, 2017, 502-515. DOI: 10.1111/erev.12317
"What is the Right Kind of Worship … If You Want North American Congregations to Sing Global Songs?" Global Forum on Arts and Christian Faith. 5:1, 2017, 48-57.
"Forming Christians through Musicking in China." Religions. 8:50, April 2017.