Mongeau, Gilles M.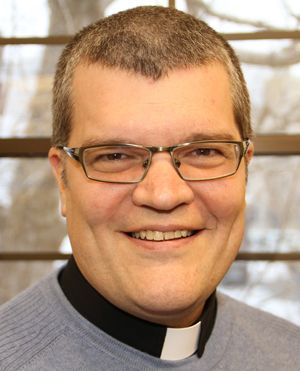 ThD (Regis)
gil.mongeau@utoronto.ca | 416-922-5474 ext 257
Bio
Born in Montreal and raised in Ottawa, Rev. Dr. Mongeau received the Doctor of Theology from Regis College and the University of Toronto in 2003, after research stints at the University of Fribourg in Switzerland and at Boston College. His doctoral research focused on Thomas Aquinas' use of rhetoric as an element of theological method. In addition to his ongoing research and teaching, Fr. Mongeau is a spiritual director and gives retreats. He is the superior of Cardoner Jesuit Community, the residence for young Jesuits in philosophy studies.
Specializations
Aquinas Studies
Wisdom Studies
Ignatian Spirituality
Jesuit Spirituality
Art and Theology
Religion and Violence
Recent Publications
Embracing Wisdom: The Summa Theologiae as Spiritual Pedagogy. Pontifical Institute of Medieval Studies, 2015.
Mystery on the Move: Aquinas; Theological Method as Transforming Wisdom in The Thomist (publication pending).
The State of Grace and the Law of the Cross: Further Insights into Lonergan from René Girard in Theoforum, volume 45, issue 1 (2014), pages 119-132.
Personhood, Dignity and Respect: a Critical Appreciation of Christian Smith, in Method Journal of Lonergan Studies, volume 5, number 1 (Spring 2014), pages 95-110.
"Classical Rhetoric and the Control of Elemental Meaning," in Meaning and history in Systematic Theology: essays in honor of Robert Doran. Marquette University Press, October 2009.
"Bernard Lonergan as Interpreter of Aquinas: a Complex Relation", in special Lonergan edition of Revista Portuguesa de Filosofia 63, 2007.
Appointment Status
College
TST Teaching Category
Basic Degree
GCTS Associate Restricted

Regis College
Regular Tenure Stream