Khan, Abrahim H.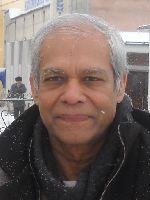 PhD (McGill)
khanah@chass.utoronto.ca | 416-978-3039 | Personal Website
Bio
Abrahim H. Khan is a professor in the Faculty of Divinity at Trinity College, and Graduate Director and is cross-appointed to the Graduate Centre for the Study of Religion at the University of Toronto.
He is a past president of the Canadian Theological Society and past editor of its newsletter. He chaired the program units Kierkegaard Seminar and History of the Study of Religion in the American Academy of Religion for five years each and was a senior fellow at Harvard University's Center for the Study of World Religions. He is a member of the Joint Centre for Bioethics, and the Centre for Ethics, at the University of Toronto; general editor of the Toronto Journal of Theology and consulting editor of the Encyclopedia of Caribbean Religions; convenes the Kierkegaard Circle and the Religion, International Diplomacy, and Economics Colloquia Series at the Munk Centre; and was an executive officer of the International Association for the History of Religions (2005-2015). Prof. Kahn is also Vice-President of the Institute for the Advanced Study of Religion, Trinity College, and Associate Chair of the Secretariat for the 2010 IAHR World Congress in Toronto. He is an editor of Acta Kierkegaardiana - a 10 volume series with supplements, Numen (2005-2015) and serves on the Academic Advisory Committee/Board for the Journal for the Study of Religion (Cape Town), Burhan Journal of Quran'c Studies (Tehran), Journal in Islamic Studies (Bannu), and Constantine Letters (Nitra).
Specializations
Kierkegaard's Thought
Philosophical-theological Ethics
Cross-cultural and Comparative Studies in Religion
Science and Religion
Philosophy of Religion
Religion, Healing and Medicine
Religion and International Relations
Recent Publications
Books:
"Salighed" as Happiness? Kierkegaard on the Concept of Salighed (1985)
Actualized Individual (2013
Chapters and Journal Articles:
"Kierkegaard on the Canadian Academic Landscape" in Kierkegaard's International Reception, Tome III, ed. Jon Stewart (2009).
"Religion and Mainstream International Diplomacy" in Towards the Dignity of Difference: Neither 'End of History' nor 'Clash of Civilizations' eds. Mojtaba Mahadavi and W. Andy Knight (2012).
"Postulating an Affinity: Amartya Sen on Capability and Tagore," Annals of Neuroscience, Vol 12/1(2012).
"Charles Taylor: Taylor's Affinity to Kierkegaard" in Kierkegaard's Influence on Philosophy, ed. Jon Stewart, Tome III. (2012).
"Islamic Influence in the Caribbean: Traditional and Cultural Healing Practice," in Caribbean Healing Traditions: Implications for Health and Mental Health (2013).
"An Indo-Caribbean Case perspective referencing an Islamic Influenced Healing Therapy," Voice of the Intellectual Man, "Tagore and the academic study of religion," Argument, Vol 6/1(2016).
Appointment Status
College
TST Teaching Category
Basic Degree
GCTS Full

Trinity College
Regular Tenure Stream