Image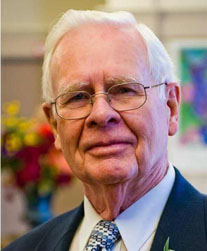 TST was saddened to learn of the passing of James Farris, Professor Emeritus of TST's member school, Knox College, and one of the faculty founders of the Toronto School of Theology. Prof. Farris died peacefully on July 24, 2023, at the age of 100 years.
Professor Farris taught the history and philosophy of religion at Knox College for 25 years. Taking up his appointment in 1967, he was part of the first TST faculty when it was organized in 1969. A committed ecumenist, he had already team-taught a basic course in Christian ethics with professors from Emmanuel and Wycliffe Colleges in 1968. (The three of them continued teaching that course for many years.)  
Jim continued to research and publish long after his retirement.  His last book, Theological Times, was published in 2015 by Mosa Press.
Jim's former colleagues and students remember him with great affection and respect. We're grateful for all his many contributions to theological teaching and scholarship, and for his long service to the TST community.
TST extends condolences to Jim's family, friends, and colleagues.