Affiliated Member Institutions
The Toronto School of Theology benefits significantly from sharing educational resources with Conrad Grebel University College, Huron University College and the Institute for Christian Studies.
Conrad Grebel University College (Mennonite, University of Waterloo)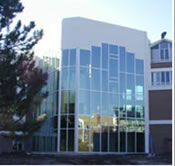 Conrad Grebel University College is located on the campus of, and is affiliated with, the University of Waterloo. The mission of Grebel's Theological Studies program is to educate, equip and form students through biblical, theological, historical and pastoral study of Christianity, in an Anabaptist-Mennonite and ecumenical context, for service to church and society.
The Masters of Theological Studies degree is awarded conjointly by the University of Waterloo and Conrad Grebel University College. Grebel also administers the Toronto Mennonite Theological Centre, located in the Toronto School of Theology building, on behalf of several Canadian and United States Mennonite institutional partners.
Mr. Marcus Shantz, President
140 Westmount Road North, Waterloo, ON N2L 3G6 | 519-885-0220 ext 24237
Conrad Grebel University College website
Huron University College (Anglican, University of Western Ontario)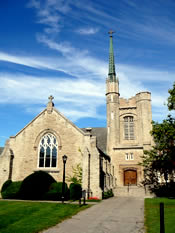 Founded in 1863 to prepare candidates for ordination in the Anglican Communion, Huron University College is also the founding college of the University of Western Ontario. In addition to the MDiv degree, its theology offerings have grown to include academic programs in theology for lay people: the MTS, BTh, and a graduate MA in Theology.
Students at Huron arrive with a wide variety of experiences and from various denominations, but, in common, hold the desire to know God more deeply, to serve others, to grow intellectually and mature spiritually.
The Rev. Canon Dr. Todd Townshend, Dean Faculty of Theology
1349 Western Road, London, ON N6G 1H3 | 519-438-7224
Huron University College website
Institute for Christian Studies (Christian Reformed)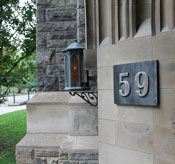 The Institute for Christian Studies (ICS) is an interdisciplinary graduate school of philosophy and theology, exploring contemporary issues at the intersection of faith, scholarship, and society. It is located in the lower level of TST's member college, Knox College.
Working from within the Reformational tradition, ICS supports inquiry that takes underlying religious convictions into account. It upholds that academic work should be an integral expression of our deepest intellectual and religious impulses and, as such, seeks to provide a space for honest and thoroughgoing reflection on life.
ICS confers two master's degrees: the Master of Arts (Philosophy) is awarded upon completion of two years of full-time study and includes the writing and oral defence of a thesis, and the Master of Worldview Studies is awarded upon completion of a one-year program.
ICS also offers a stand-alone PhD in philosophy or a conjoint PhD in philosophy in partnership with the Vrije Universiteit (VU) Amsterdam. The degree is awarded upon completion of two years of coursework, language requirements, and writing and defence of a dissertation.
Dr. Ronald A. Kuipers, President
59 St. George Street, Toronto, ON M5S 2E6 | 416-979-2331
Institute for Christian Studies website