Image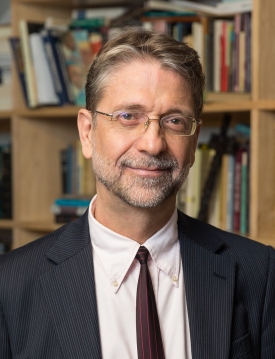 Bio
I was raised in Berkeley, California, the son of a Jewish father and ex-Catholic mother. It was the heyday of Free Speech, hippies, Black Panthers, People's Park, etc. I was in the political mix but attempted to keep my head down. I studied music, tried to stay focused, wandered around the crazy streets, and listened to street preachers.
I became a Christian at 14 and joined a local Episcopal Church, where I was confirmed and which later sponsored me for seminary. I made my way to music conservatory (violin), but quickly decided against that direction, and ended up finishing a degree at Dartmouth (classics/art history). I also grew more deeply in my faith. Among other things, some difficult family situations and an internship in Boston at a prison-related halfway house stirred in me a desire to serve Christ's church as a priest.
While I was in seminary at Yale, my horizons were opened to the larger Church. After a number of exploratory ministries, I became an Episcopal Church overseas appointee to Burundi (East Africa), where I worked for 4 years, mostly teaching in a Bible college. This was a tremendously formative time.
Back to the US after political troubles, I worked as an associate in a large Brooklyn parish. I met my wife, Annette Brownlee, who was ordained in 1987. Off to Cleveland, OH, we worked in inner-city churches. Later, in Connecticut, Annette led a mission church while I did a doctorate in theology (Yale, 1994). Still pastoring, I wound up leading a Haitian congregation in Stamford—a connection that flowered when we moved to Colorado, and the parish I led there as rector (Ascension, Pueblo) became deeply involved in Haiti. Our two children, Hannah and Isaac, were raised in Colorado, where both now live.
Our life in Pueblo—a blue-collar steel town near New Mexico—defined our family's growth. I was a diocesan "regional missioner" (like an archdeacon), overseeing 20 far-flung congregations. It was an exciting time, with engaged ministries. Life in the parish flourished, though not without challenge. I began writing more.
After 10 years, an opportunity opened up at Wycliffe College, where we moved in 2007. I continue to be involved in local congregational and even wider church life. I am particularly blessed by the work at Wycliffe helping to form new ministers and scholars, and by the chance to do theological research for the service of Christ's church. Some of my occasional writing can be found on the Covenant weblog of The Living Church magazine.
Specializations

Ecclesiology: Ecclesial decision-making and ecumenism
Scriptural hermeneutics and the theological categories of "time" and "history"
The character of early modern Christian self-identity
Pneumatology
Contemporary Christian social experience
Anglican Theology

Publications

Books:

Church (2017)
Church, Society, and the Christian Common Good: Essays in Conversation with Philip Turner (editor, 2017)
A Time to Keep: Theology, Mortality, and the Shape of a Human Life

(2016)
Time and the Word: The Figural Reading of Scripture (2016)

Articles:

"Christian MIssion and the Lambeth Conference", in Paul Avis and Benjamin Guyer (eds), The Lambeth Conference: History, Theology, Polity and Purpose ​ (Bloomsbury, 2017)
"The Anglican Communion and Anglicanism", in Jeremy Morris (ed.), The Oxford History of Anglicanism, Vol. IV (Oxford University Preses, 2017)
"Anglican-Catholic relations 50 years after Unitatis Redintegratio," The International Journal for the Study of the Christian Church 14:4 (2014)
"The Holy Spirit and Unity: Getting Out of the Way of Christ," International Journal of Systematic Theology 16:2 (2014)