Image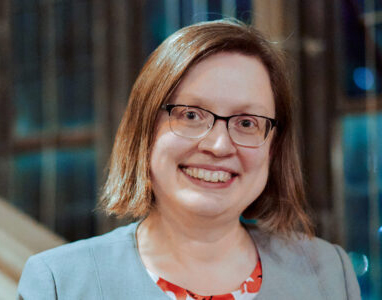 Bio
Christine joined Knox College in 2022 as Academic Dean and Professor of Hebrew Bible.
Christine is a scholar of the Hebrew Bible (Old Testament), with particular interest in 1-2 Chronicles, Ezra-Nehemiah, Haggai, Zechariah, Malachi, and the book of Judges. With degrees in Near Eastern Archaeology (BA, Wilfrid Laurier University), Religious Studies (MA, Carleton University), and Comparative Literary Studies (PhD, Carleton University), she brings interdisciplinary perspectives to the study of biblical texts, biblical worlds, and modern interpretation. She has particular interests in the biblical books mentioned above, as well as in the literature and history of the Persian and Hellenistic periods across the ancient eastern Mediterranean area. When working with modern interpretive methods, she is interested in feminist and gender studies, and especially in how settler-Canadians approach biblical studies in the era of the Truth and Reconciliation Commission.
Christine is a United Church of Canada layperson, and previously served for nineteen years (2002-2021) as Professor of Hebrew Scriptures at St. Andrew's College, Saskatoon, a theological school of the United Church. She is a past-President of the Canadian Society of Biblical Studies and was the founding editor of the Advancing Studies in Religion series at McGill-Queen's University Press. She has been a member of a number of editorial boards and is active in several scholarly societies.
Her personal website is christine-mitchell.ca, where you can find links to her publications. She is also active on "Biblical Studies Twitter" and you can find her on Twitter with the handle @CMitchellSask.
Specializations

Hebrew Bible, especially Chronicles
Persian and Hellenistic periods in the Ancient Near East
Feminist and gender studies
Literary theory, especially theories of genre

Publications

"The Righteousness of the Levites in Chronicles and Ezekiel", in J. Jeon & L. Jonker (eds.), Chronicles and the Priestly Literature of the Hebrew Bible (Berlin: de Gruyter, 2021), 337-347
"What to do with all these Canaanites? A settler-Canadian reading of biblical conquest stories", in D. Schweitzer & P. Gareau (eds.), Honouring the Declaration: Church Commitments to Reconciliation and the UD Declaration on the Rights of Indigenous Peoples (Regina, SK: University of Regina Press, 2021), 31-52
"David and darics: reconsidering an anachronism in 1 Chronicles 29", Vetus Testamentum 69 (2019): 748-754
"Berlin Papyrus P. 13447 and the Library of the Yehudite Colony at Elephantine", Journal of Near Eastern Studies 76 (2017): 139-147
"A Paradeisos at Ramat Rahel and the Setting of Zechariah", Transeuphratene 48 (2016): 77-91
"Coming, Going, and Knowing: Reading Sex and Embodiment in Hebrew Narrative", Hebrew Bible and Ancient Israel 5 (2016): 94-111
"A Note on the Creation Formula in Zechariah 12:1-8; Isaiah 42:5-6; and Old Persian Inscriptions", Journal of Biblical Literature 133 (2014): 305-308
"1-2 Chronicles", in C. Newsom, S. Ringge and J. Lapsley (eds.), The Women's Bible Commentary, 3rd ed. (Louisville, Ky.: Westminster John Knox, 2012), 184-91