Image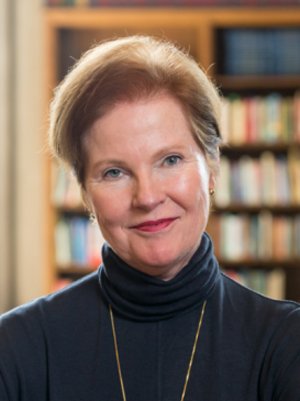 Bio
Ann Jervis received her doctorate in 1990, at which point she joined the faculty at Wycliffe College, first as a lecturer, then as Assistant and Associate Professor. In 2001 she was made a Full Professor of New Testament. Ann is cross-appointed to the Department for the Study of Religion at the University of Toronto and is a Senior Fellow at Massey College, University of Toronto. She is a member of the Centre for Ethics at Trinity College, University of Toronto, and a member of the Center of Theological Inquiry, Princeton, NJ, where she spent two of her sabbaticals. Ann has also spent sabbaticals at the Pontifical Biblical Institute in Rome and at the École Biblique in Jerusalem.
Ann has been an invited speaker in China, Europe, the Caribbean and the United States. She has also led two Wycliffe trips to Israel. Ann is a priest in the Diocese of Toronto, serving as Honorary Assistant at Church of the Redeemer, where she regularly preaches and celebrates the Eucharist.
In 2016 Ann received a five year Social Sciences and Humanities Research grant for a project on Paul's view of time. She has contributed several papers on the topic at academic societies and gatherings, most recently at Society of Biblical Literature, November 2016 and at a conference on time in ancient Judaism in June 2016.
Specializations

Paul
Greco-Roman Ethics
Gospel Studies and Women in the Bible
Paul's Understanding of Time

Publications

"Promise and Purpose in Romans 9:1-13: Towards Understanding Paul's View of Time," in God and Israel. Providence and Purpose in Romans 9-11. 1-26. Ed. by Todd D. Still. Baylor: Baylor University Press, 2017.
Jervis, L. Ann, 'Paul the Theologian', in R. Barry Matlock, ed., The Oxford Handbook of Pauline Studies, (2017).
"Worlds of Judgement: John 9," in Conception, Reception and the Spirit: Essays in Honor of Andrew T. Lincoln, edited by Gordon McConville and Lloyd K. Pietersen, 48-57. Eugene, OR: Cascade Books, 2015.
"Divine Retribution in Romans," Interpretation: A Journal of Bible and Theology, Vol. 69, no 3 (July, 2015), 323-37.
"The Spirit Brings Christ's Life to Life," in Reading Paul's Letter to the Romans, Resources for Biblical Studies Series, edited by J. L. Sumney, 139-156. Atlanta: Society of Biblical Literature, 2012.
"Reading Romans 7 in Conversation with Post-Colonial Theory: Paul's Struggle Toward Christian Identity of Hybridity," in The Colonized Apostle: Paul through Postcolonial Eyes, Paul in Critical Contexts Series, edited by C. D. Stanley, 95-109. Minneapolis: Fortress, 2011.
At the Heart of the Gospel: Suffering in the Earliest Christian Message. Grand Rapids, MI: Eerdmans, 2007.
"Accepting Affliction: Paul's Preaching on Suffering," in The Character of Scripture: Moral Formation, Community, and Biblical Interpretation, edited by W. P. Brown, 290-316. Grand Rapids: Eerdmans, 2002.