TST-Wide Ecumenical Service during the Week of Prayer for Christian Unity
Date
Time
Where
Via Zoom - Pre-Registration Required
Contact Info
Event Attachment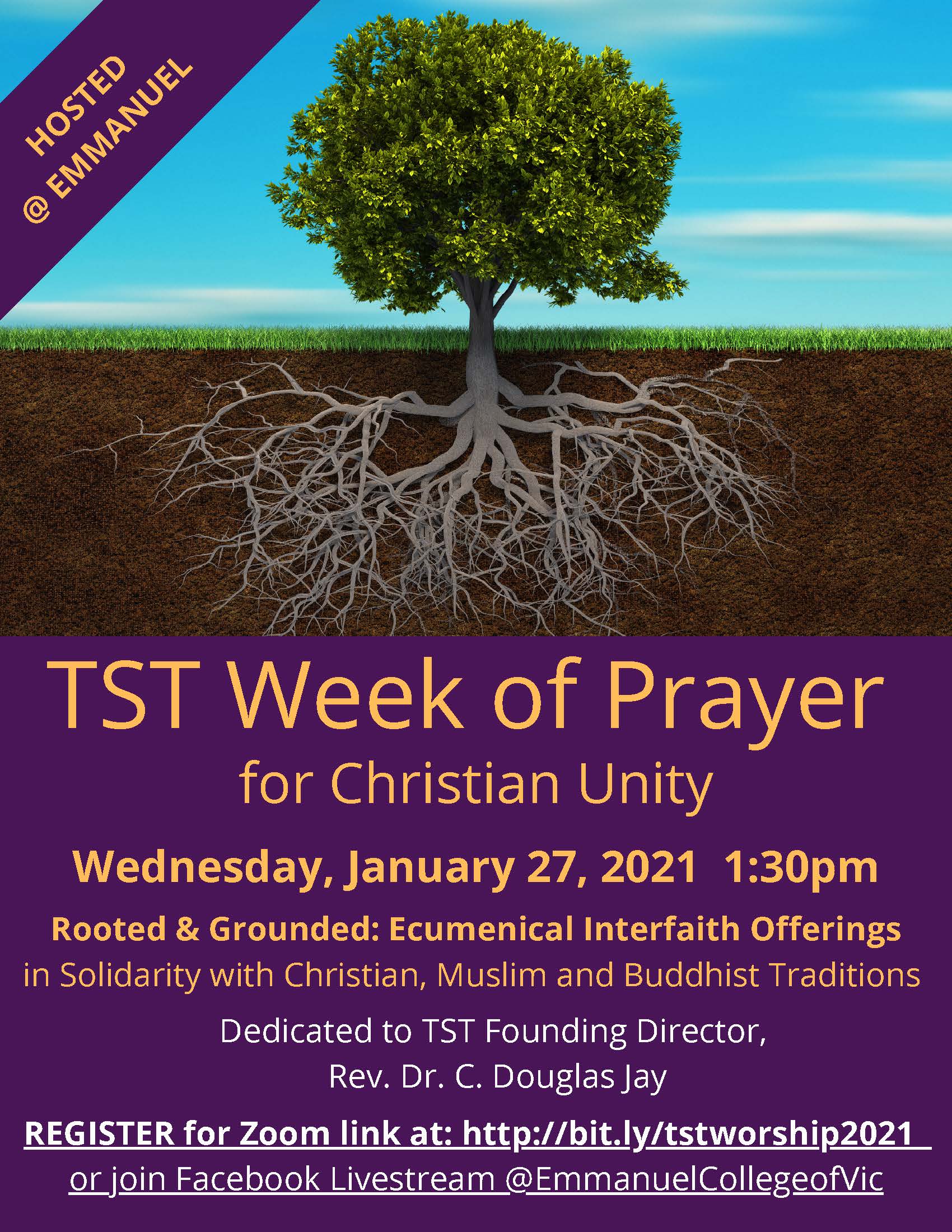 Event Details
TST Ecumenical Worship: An Invitation from Emmanuel College
Wednesday, January 27, 1:30 – 3:00 pm, EST via Zoom - pre-registation is required (see further below)
Each year one of the member schools of TST hosts a worship service for the World Council of Churches' Week of Prayer for Christian Unity (January 24 - 31, 2021). While many of the schools of TST offer courses in various forms of interfaith dialogue, a student's opportunity to focus in Christian, Muslim, or Buddhist studies, and to study alongside of others who practice those and other faiths, is unique.
This year, Emmanuel College invites TST to experience what we have found in our classrooms: study is a spiritual practice for all faiths, and interfaith relationships form when we study together. When we encounter the beliefs of others, we ask more questions about our own beliefs. Building relationships and discussing our beliefs invites us to be curious about how we each practice our faith. When we encounter different faiths, we can become "more deeply rooted" in our own faith practice. This educational development is the fruit of the long-standing engagement of the United Church of Canada in interfaith dialogue. This year, Emmanuel College invites TST to experience its emerging form of interfaith prayer. We invite you to pray with "ritual honesty": the service is constructed so that, at any point in the service where the language or action causes you to feel you need to "opt out", you are invited to simply sit back and "overhear" the prayers of others.
This service is dedicated to the life and legacy of the recently departed Rev. Dr. C. Douglas Jay, Principal Emeritus of Emmanuel College, who served as the founding Director for the Toronto School of Theology (1969-80) and who was a steadfast advocate for interfaith dialogue.
Pre-register for this event here. The morning of the event, you will be emailed a secure Zoom link, which we ask that you do not share. We will also be live-streaming this event via Facebook: @EmmanuelCollegeofVic.
Questions about the service may be directed to Samantha Cavanagh, Spiritual and Community Life Program Manager at Emmanuel College, sam.cavanagh@utoronto.ca