St. Augustine's Seminary
Date
Time
Where
St. Augustine's Seminary
2661 Kingston Road
Scarborough, ON M1M 1M3
Contact Info
416-261-7207, Ext: 235
Event Attachment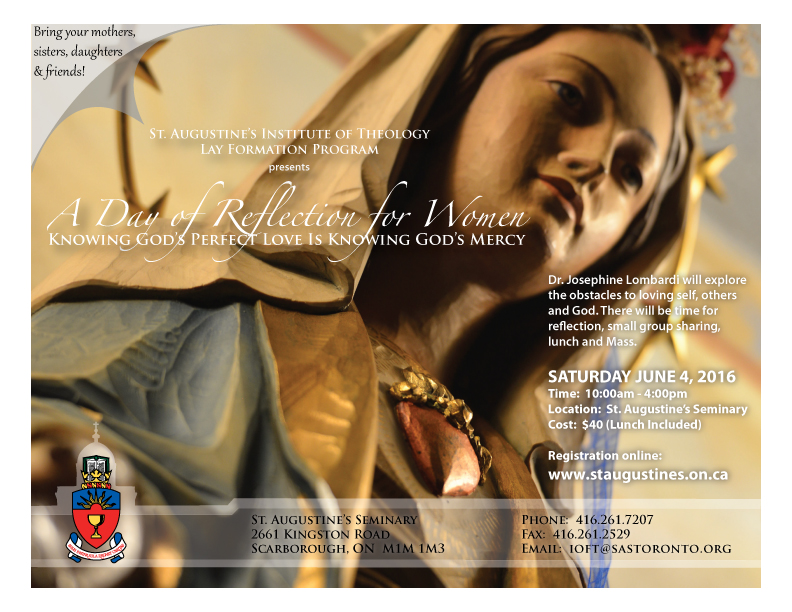 Event Details
A Day of Reflection for Women: Knowing God's Perfect Love Is Knowing God's Mercy with Dr. Josephine Lombardi, a St. Augustine's Seminary/TST faculty member.
Dr. Lombardi will explore obstacles to loving God, oneself and others. There will be time for private reflection and small group sharing, lunch and Mass.
Bring your mothers, sisters, daughters and friends!
Cost: $40, including lunch.
For information and how to register, click here.
Date
Date of Event:
Monday, June 27, 2016
to
Tuesday, June 28, 2016
Time
Where
St. Augustine's Seminary
2661 Kingston Road
Scarborough, ON M1M 1M3
Contact Info
416-261-7207
Event Details
A Preaching Seminar with Fr. Peter Cameron O.P.
"Evangelii Gaudium and Pope Francis' Revolution in Preaching" is the second in a series of preaching seminars between Conferences on Catholic Preaching. Fr. Peter Cameron will present a two-day seminar on what Catholic preachers can do to make preaching better drawing on his expertise as preacher, teacher and writer of homiletics, and director of preaching for his Dominican province.
See the full seminar schedule and how to register here.