Affiliated Member Institutions
The Toronto School of Theology benefits significantly from sharing educational resources with Conrad Grebel University College, Huron University College and the Institute for Christian Studies.
Conrad Grebel University College (Mennonite, University of Waterloo)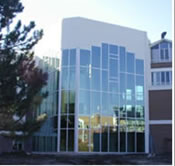 Conrad Grebel University College is located on the campus of, and is affiliated with, the University of Waterloo. The mission of Grebel's Theological Studies program is to educate, equip and form students through biblical, theological, historical and pastoral study of Christianity, in an Anabaptist-Mennonite and ecumenical context, for service to church and society.
The Masters of Theological Studies degree is awarded conjointly by the University of Waterloo and Conrad Grebel University College. Grebel also administers the Toronto Mennonite Theological Centre, located in the Toronto School of theology building, on behalf of several Canadian and United States Mennonite institutional partners.
Dr. Susan Schultz Huxman, President
140 Westmount Road North, Waterloo, ON N2L 3G6 | 519-885-0220
Conrad Grebel University College website
Huron University College (Anglican, University of Western Ontario)
Founded in 1863 to prepare candidates for ordination in the Anglican Communion, Huron University College is also the founding college of the University of Western Ontario. In addition to the MDiv degree, its theology offerings have grown to include academic programs in theology for lay people: the MTS, BTh, and a graduate MA in Theology.
Students at Huron arrive with a wide variety of experiences and from various denominations, but, in common, hold the desire to know God more deeply, to serve others, to grow intellectually and mature spiritually.
The Rev. Canon Dr. Todd Townshend, Dean of Theology
1349 Western Road, London, ON N6G 1H3 | 519-438-7224
Huron University College website
Institute for Christian Studies (Christian Reformed)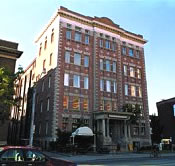 The Institute for Christian Studies (ICS) is a graduate school of Christian philosophy and theology, exploring a Christian approach to key issues in the humanities and social sciences. It is an affiliate member of the Toronto School of Theology amd is located on the southern edge of the University of Toronto campus.
ICS confers two master's degrees. The Master of Arts (Philosophy) is awarded upon completion of two years of full-time study and includes the writing and oral defence of a thesis. The Master of Worldview Studies is awarded upon completion of a one-year program comprising six courses and an action-oriented project.
ICS also offers a PhD in interdisciplinary philosophy awarded upon completion of prescribed course work, language requirements and the doctoral dissertation.
Dr. Doug Blomberg, President and Academic Dean
229 College Street, Toronto, ON M5T 1R4 | 416-979-2331
Institute for Christian Studies website