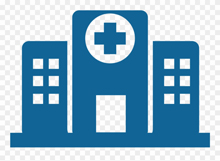 "I need to go to the emergency room." I expected this; I saw the signs. I am, frankly, relieved, although uncertain: what's it like in a hospital, even a small, rural one, in the era of COVID-19? I call the Black River Falls ER: "I'm bringing my husband in with congestive heart failure." I give his name, his birthday. "When I get there, what's the drill?"
"We will meet him at the door."
Prudence.
We drive into the hospital parking lot. In contrast to the usual one bold red sign:

The hospital yard is rimmed with gold signs with black lettering about six feet apart, directing people away from the ER:

Prudence.
We pull up to the ER entrance. Two blood-orange signs guard the door like sphinx.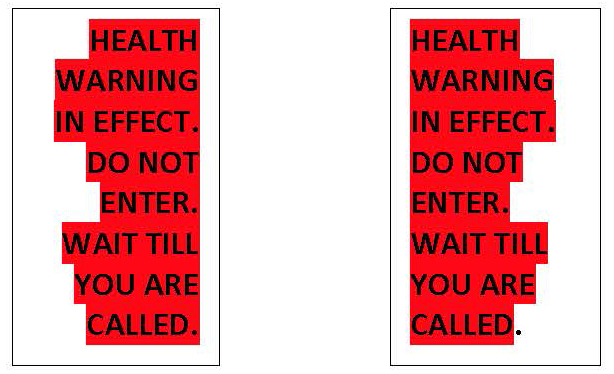 We wait.
An angel appears, missing only wings: white hat, white face mask, white full body gown, gloves. To my husband: "So you are short of breath?" Yes.
"Coughing." Yes.
"Fever?" No.
"Chills." No.
"Do you want a wheelchair?" Yes.
And then to me: "You wait in the car." No, I'll go home.
"Your phone number?" Written down.
She positions the wheelchair. He settles in. She thumbs up to me, pivots away from the car. I turn my back on him, press the accelerator, and head for home.
Never before.  Usually, this hospital exudes intimacy: I know every corridor of this emergency room, the names of doctors and nurses, the path to the elevator, the numbers of the patient rooms, the etchings of grasses, lakes and birds on the glass face of the meditation room.
Here, when Jim rehabbed after hip surgery, our Sheltie Nicholas climbed onto the hospital bed, laid his head on Jim's shoulder, and snuggled for twenty minutes. Nick visited every day thereafter, trotting proudly past the receptionist on his way to the patient rooms.
Here, our visiting Canadian friend needed minor help with a rash and when she tried to pay, was waved away: "Just say you didn't see a doctor."
Here, as I struggled to stay awake in the middle of one long night waiting for Jim's test results, the nurse brought me a gurney to sleep on.
Here, I brought my eight-year old grandson after he caught his foot in the pedal of an exercise bike. That morning, the ER doc had patched Jim's hand after a bloody encounter with a knife when grandpa and grandson tried to poke holes in the top of a plastic bottle for some project or another. In the ER, the nurse offered a drink: grandpa took water, grandson took ginger ale. In the afternoon, grandson occupied the exact same ER gurney. The nurse asked if he wanted a drink. He thought for a moment - in his eyes, I saw him remembering the morning: "Water."
Now, at the door of a place where we have shared moments of connection, we are divided between "in" and "out." I await the official diagnosis: Instead of fighting to stay awake at Jim's side in the ER anteroom, I toss and turn in my own bed. Four hours later, the phone rings; I hear Nurse Stefan's familiar voice; I imagine his face.  Jim is admitted.
I stay home. We communicate by text and Facetime.
Prudence takes into account unfathomable contingencies like the ones we are now experiencing and makes wise decisions. She considers self, others, and the larger community. She has not triumphed, but she perseveres: On April 30, 2020, Jackson County, Wisconsin reported twelve cases of COVID-19, and of these, one death, one hospitalized and ten resolved. No new cases in over a week.
Meanwhile, I work at home, waiting for the hospital to release Jim. I give thanks for all of the Toronto School of Theology graduates who are practicing prudence in hospitals and street ministries and congregations in Toronto and throughout Ontario. (You can read their stories in the COVID-19 bar on the TST web page.)
Occasionally, I look for Nick, who is uncharacteristically quiet. The dog who most days races the yard, yelping, chasing squirrels, can now be found taking long daytime naps by Jim's side of the bed.
~ Pamela D. Couture, Executive Director, Toronto School of Theology