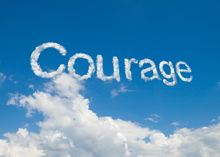 For two days, I got distracted from opening my computer to read the "revised daily lectionary daily readings" during dawning. Early mornings, I find it easier reach into my soul and draw the living water that Jesus promised the Samaritan woman at the well. Not so once the day is filled with tasks, decisions, and screen time (which my computer tells me increased by 54% last week.)
In the afternoon, I find the page. I "scroll down." The words and letters blur on the screen. I read, willing patience, unable to contemplate. I encounter a numbness in my soul, a firewall through which the meanings of scripture cannot touch my heart. But I believe in prevenient grace, that God is seeking me. I wait. I try to find calm, to understand what God is saying to me.
"Social distancing"—the watchword of last week—has yielded to a much harder term—"shelter in place." Dr. Ari Greenwald, a Toronto emergency room doctor, YouTubed a sobering and scary message about the spread of COVID-19 through people who are either a-symptomatic or experiencing symptoms other than upper respiratory. Dr. Emily Landon, an infectious diseases specialist in Chicago, Illinois, where "shelter in place" is mandated by law, emphasized its goal: "Nothing happens. You will feel it was all for nothing. That's what you want." See the article here [2].
My numbness finally yields. Rewatching The Darkest Hour on Netflix, the story of Churchill's leadership in the early days of World War II, I face the depth of my terror: I name my current griefs and fears. But the worst is yet to come.
The words of the Psalm of the week, the 23rd Psalm, speak to me as I fall asleep: "Even though I walk through the valley of the shadow of death, I fear no evil, thy rod and thy staff, they comfort me." (Psalm 23: 4, d, NRSV).
As a society, we are just entering that valley. God's rod and staff guide us in the exercise of virtue. But what do the cardinal virtues of "temperance, fortitude, prudence and justice" and the theological virtues of "faith, hope and charity" mean in a time of "social distance" and "shelter in place"? Our normal Christian practices of coming to the aid of others are upended when exactly those practices put others at risk.
Fortitude—courage—will find new meanings in the time to come.
Courage means staying home and away, using technology when every fiber of our being yearns for embodied presence with extended family and friends. Or when we get cabin fever and think, "ok, just this once…"
Courage means holding steady, doing our normal routines, albeit remotely, keeping panic in check and avoiding doomsday scenarios.
Courage means, in the midst of highly increased stress, holding dear the admonitions to truth and honesty and kindness and love in Ephesians 4:25-32, not as a moral demand or a condemnation but an aspiration and goal—and fostering a gentler attitude in ourselves and in others when we fail and must turn again.
Meanwhile, the promise of God remains:
The Lord is my Shepherd, I shall not want.
He makes me to lie down in green pastures,
He leads me beside still waters,
He restores my soul.
He leads me in right paths, for his name's sake. (Psalm 23:1-3, NRSV)
~ Pamela D. Couture, Executive Director, Toronto School of Theology