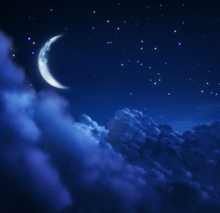 The near-ideal morning: I awaken when the Quarter Moon shines bright, partnered with the North Star. Near, but not intimately positioned—rather, even these heavenly bodies seem to practice an awkward "social distancing." Then, the pink glow of sunrise overwhelms the light of the moon, deepens to burning rose over a calm Lake Ontario, and yields to a light blue sky. Mercifully, thin cloud cover filters the bright heat of the sun that hammers my windows on cloudless days: the air billows. I open my door to the lake: a surface breeze creates soft waves caressing the shore, shushing my broken heart, opening it for contemplation.
On this beautiful morning, my tears well as I read in Lamentations 1:1: "How lonely sits the city that was once full of people!"
An administrator's decisions, like lake waves, endlessly push toward shore. These decisions aim to comfort and protect, nourishing ecosystems and creating lovely patterns in the sand, but the same decisions may also leave behind detritus or even toxicity on treasured shores. The decisions we make now, for some, may not be like this morning's waves: they may pound like the hard, rolling breakers that carved a crater in the cliff of earth overlooking Lake Erie where my grandparents spent their last years. This week's decisions are meant to protect and comfort—in the terms of Wesley's general rules, to "Do all the good you can." But for some, the waves of decisions bring confusion, disorientation, questioning. Inevitably, in "doing good" we will also break another general rule: "Do not harm."
I mourn this morning for all those who are especially vulnerable in this crisis, biologically, economically, and emotionally. Our eyes focus on the good of the whole, taking in the expanse of the beautiful and sometimes dangerous lake on whose shores we sit. At the same time, as we encounter effects of decisions in each wave and the loveliness and the damage they leave behind. And we remember the last general rule, for which we again need new practices during this time: "Attend the ordinances of God"—in modern language, engage in spiritual practices which allow you, your neighbor and God to draw near in love.
Paring down the essential services of the university, closing its operations to only those functions that cannot be done in any other way, preventing people and property from being in the "chain of transmission"—at the moment, the most global to the most minute decisions of the University of Toronto, the Toronto School of Theology, and its member schools are caught in a matrix where the ethics of a common good share, but sometimes override, individual goods. With God's help, may our community rise to moderate the effects of this clash of goods wherever we are able.
~ Pamela D. Couture, Executive Director, Toronto School of Theology