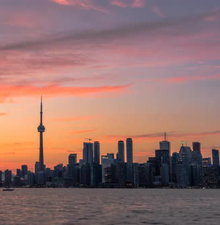 Emmanuel College, Afternoon Prayer: March 31, 2020
A paraphrase of Lamentations 1:1-5
How lonely sits the city, that was once full of people!
How like a widow she has become, she that was great among cities!
She that was a princess in the province has become a vassal.
Suffering God, we lament the loss of our everyday lives, the loss of the normalcy: classes, jobs, family life, worship.
The city weeps bitterly in the night, with tears on her cheeks;
Among all her lovers she has no one to comfort her;
Suffering God, we lament the danger in our hospitals and clinics, to our health care workers and their patients; in our nursing homes, group homes, prisons, and other institutions where people are confined; in crowded villages and refugee camps; in remote Artic towns far from medical care; in all the places people draw near to this enemy.
The city's friends have dealt treacherously with her,
They have become her enemies.
Suffering God, we give thanks for the leaders who try to protect us. We pray that they will organize medical supplies so they can be widely distributed. We pray that you will regenerate the hearts of those who seek gain from this tragedy.
China, Italy, Iran, Germany, the United States, India, Syria: so many countries have gone into exile with suffering and hard servitude;
They live now among the nations and find no resting-place;
The virus has overtaken them
In the midst of their distress.
Suffering God, we pray for those countries whose hospitals are overflowing and whose death tolls have soared.
In Canada, no one comes to the festivals,
In Toronto, our city gates are desolate,
Our priests groan;
Our young girls and boys grieve,
Our lot is bitter.
Suffering God, we pray for the children who are terrified, who cannot understand.
We pray for the elderly who have few immune defences.
We pray for the caretakers, who struggle to find peace in the surreality.
This virus has become the master, it prospers,
And we suffer for the multitude of our transgressions,
Some children and many elderly have gone away,
Captives before this foe.
Suffering God, for the ways in which we have abused our climate or prioritized wealth or self-satisfaction over human life: forgive us. Help us to reorder our priorities. Let us help each other and find community in safe ways. Grant peace to the souls of those who have died and those they have left behind. Touch those who survive with grace and newness of life.
~ Pamela D. Couture, Executive Director, Toronto School of Theology