Voss, Michelle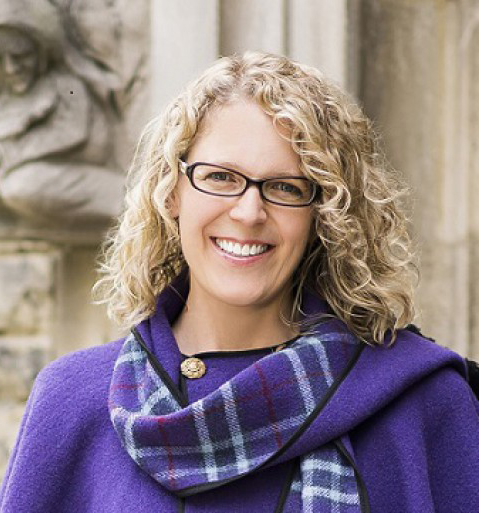 PhD (Emory)
michelle.vossroberts@utoronto.ca | 416-585-4541
Bio
Michelle Voss is the 13th principal of Emmanuel College and the first woman to lead the institution as Principal in its 90-year history.
An expert in comparative theology, with a particular focus on Christian and Hindu contexts, Voss has also written widely about aesthetics, gender, and embodiment. Her teaching integrates the study of Christian theological traditions with theories of gender and sexuality, disability studies, and religious pluralism.
Among her numerous scholarly publications are several ground-breaking books: Dualities: A Theology of Difference (2010), Tastes of the Divine: Hindu and Christian Theologies of Emotion (2014), and, most recently, Body Parts: A Theological Anthropology (2017). She has also edited of a volume of essays for the introductory theology classroom, Comparing Faithfully: Insights for Christian Systematic Theology (2016). She is the recipient of grants and prizes from institutions including the American Academy of Religion, the National Endowment for the Humanities, and the Society for Hindu-Christian Studies.
Voss began her career at Rhodes College, where she was an assistant professor of religious studies from 2006 to 2011. From 2011 to 2018, she taught theology at Wake Forest University School of Divinity. She served as Associate Dean for Academic Affairs, the School's chief academic officer, from 2015 to 2018. In this role, she contributed to changes in the curriculum to highlight issues of race and class, gender and sexuality, and religious pluralism. In 2017-2018, she culminated eight years of service with the Society for Hindu-Christian Studies as its president.
Voss is an ordained minister of the United Church of Christ, a denomination in full communion with the United Church of Canada. She brings to Emmanuel her deep understanding of the role of theological education in the twenty-first century, including a commitment to building communities of dialogue across different religious traditions.
Specializations
Comparative Theology
Constructive Christian Theology
Hindu-Christian Studies
Intersectional Feminist Theologies
Theological Anthropology
Aesthetics and Theology
Embodiment and Religious Experience
Recent Publications
Books:
The Handbook of Hindu-Christian Relations. Edited with Chad Bauman. London and New York: Routledge, 2020.
Body Parts: A Theological Anthropology. Minneapolis: Fortress Press, 2017. 232 pg.
Articles in Peer-Reviewed Journals:
"Comparative Moments: A Comparative Theological Orientation for Theological Education," Religious Education (2020).
"Practicing the Image of God: Why Ritual Can Retrain the Elephant," Journal of Interreligious Studies (2020): 6-18.
"Kenotic Gestures: Comparative Aesthetics and the Feminist Debate on Kenōsis," Interreligious Studies and Intercultural Theology 3.1-2 (April 2019).
Chapters in multi-author volumes:
"More than Meets the Eye: The Cross as Maṇḍala." In Atonement in Comparative Theology: The Cross in Dialogue with Other Religions, ed. Catherine Cornille. New York: Fordham University Press, 2021.
"'We Have Been Practicing for This': Interfaith Engagement Reshaping Theological Education. In Deep Understanding for Divisive Times: Essays Marking a Decade of the Journal of Interreligious Studies, ed. Mary Elizabeth Moore, Axel Marc Oaks Takacs, and Or N. Rose. Orleans, MA: Paraclete Press, 2020.
"'Let the Sacred Be Redefined by the People': An Aesthetics of Liberation Across Religious Lines." With Demi "Day" McCoy. In The Arts as Witness in Multifaith Contexts, ed. Roberta R. King and William A. Dyrness. Downers Grove, IL: InterVarsity Press, 2019.
Appointment Status
College
TST Teaching Category
Basic Degree
GCTS Full

Emmanuel College
Regular Tenure Stream