TST Prayers During the COVID-19 Pandemic -
Prepared for and Read to Open TST Board of Trustees Meetings
By Dr. George T. Smith, CSB
Chair, Toronto School of Theology Board of Trustees
Previous Prayers (click on a date to read):
Current Prayer, October 5, 2020:

The Toronto School of Theology consortium is strongly committed to:

critical reflection and scholarly research on matters of Christian faith, practice and ministry;

God of wisdom, inspire our professors and students that they may dedicate themselves to creative scholarship and study during these challenging times.

excellence in theological education and formation for various ministries in Church and society; and

God of love, may our common baptism awaken within us our vocation to ensure that our theology finds meaning and purpose in the service of our brothers and sisters, especially those most in need.

an ecumenical environment for theological education.

God of unity, empower us to seek ways through which our professors and students may deepen their love for Christ by studying how others love Christ.

God of all wisdom, love and unity: be with us today as we reflect on the many ways that our mission comes alive within our communities; may that mission be a source of wisdom, love and unity for all those who may be called to find a home in that community of communities that we call the Toronto School of Theology. 

We make this prayer through Christ, with Christ, and in Christ, in the unity of the Holy Spirit. Amen

 

Also available here.

 
TST

Graduates and Students Share Their COVID-19 Experiences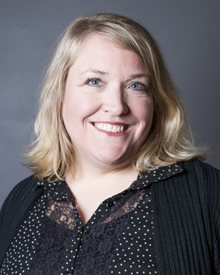 Carmen Schultz is a recent graduate (May 2020) of  Emmanuel College with a Masters in Pastoral Studies (MPS) with a concurrent certificate in Psychotherapy and Spiritual Care. Carmen is working as the Coordinator for Spiritual and Religious Care at Fudger House Long-term Care home in Toronto. As such, and during this stressful time of COVID-19, Carmen's role has been reshaped to suit the needs of the home and Residents. Normally, Carmen would be in charge of organizing all religious and spiritual activities within the home, including religious services and End of Life preparations across a wide variety of traditions, not to mention, one-on-one supports with the Residents of the home. At this strange and interesting time, Carmen is now helping to support staff and Residents in various ways, including feeding, as volunteers are not allowed into the home. She spends a large amount of time trying to arrange video calls between residents and their families. Some time is spent in supporting families in preparations for End of Life and offering one-on-one support to residents, families and staff members as they each uniquely face this time of anxiety and increased isolation. It is in these one-on-one sessions that Carmen finds the need is greatest. Many of the Residents do not have family, and with the various protocols for health and safety implemented, isolation has been magnified.Carmen supports Residents, families and staff through compassionate listening and presence. Carmen will next pursue her accreditation with the College of Registered Psychotherapists of Ontario.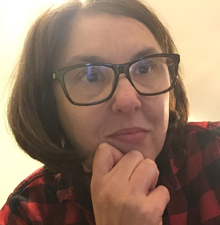 Daina Colbourne, HBA, RP, is a Master of Theological Studies (MTS) student at Regis College. In her words: I have been a Spiritual Care Practitioner at Sunnybrook Health Sciences Centre for almost five years. I am hoping to graduate this fall with my MTS from Regis College. I live in Guelph with my husband Richard and my little dog, Steve. COVID-19 has changed the way we work in many ways and has affected the way we provide care. I work with many people who show great strength and character in the midst of this pandemic which is inspiring to me. As it has been said, "we are in a marathon, and not a sprint".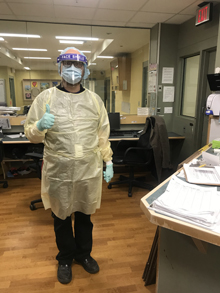 Shawn Lucas received his MDiv from Emmanuel College in 2003 and is the manager of Spiritual Care Services at the Centre for Addiction and Mental Health. In his words: In the photo you will see I am wearing a hairnet, facial visor, surgical mask, rubber gloves and gown. When all are put on they make you quite warm. I'm actually only wearing a polo shirt underneath and was still very warm. On this unit there are eight clients (at the time of writing) who tested positive for COVID-19. I had provided debriefing and grief counselling for a client who died from COVID-19 who had been a client at the hospital for many years. During the session I washed my hands in alcohol sanitizer eight times and changed my gown and gloves twice. The face visor can be re-used provided it's washed with "virox" a strong disinfectant. At the end of this, I feel more tired than I normally would.  A twenty-minute session feels like an hour.
During these sessions we only meet the clients at the door to their rooms - as they are in isolation. We are not allowed to use the typical interview rooms because there are too many variables with cleanliness. (Really got to give kudos to the housekeeping staff. They are doing amazing work in very troubling times.)
Most of our work is done remotely now. We are all set up to work from home. We can do phone or virtual counselling from home. Prior to the pandemic we were doing 300 virtual visits per month and that has now increased to 2500 virtual visits per month. Doing virtual counselling is challenging if it's by phone: you can't see the persons face or their environment and it makes it difficult to do a mental status exam. At the outset of a virtual counselling session you have to get the client to provide to you their exact location, should you need to contact emergency services. Using a phone alone requires you to be more attentive and takes more energy. If you are using the video counselling program you have to get the client to agree not to record the session, and again, asking them to tell you their exact location, an alternate emergency contact person. You also have to get their verbal consent to participate in a virtual setting, obtain at least two identifying pieces of information (DOB, Health Card, Driver's License etc.), and ensure that they are in a private location where they cannot be overheard or intruded upon.
During the pandemic we have found that staff have also been reaching out for more support than usual from spiritual care.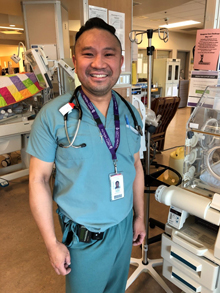 Dr. Joey Bonifacio is a staff pediatrician who works as an adolescent medicine specialist in addition to working frontline on the labour and delivery floor, and in the neonatal intensive care unit at St. Michael's Hospital in Toronto. In addition to his work at St. Mike's, Joey also works at Evergreen, the medical clinic associated with the Yonge Street Mission and Covenant House, Canada's largest youth shelter. Joey graduated from Regis College in 2019 with a Master of Theological Studies degree.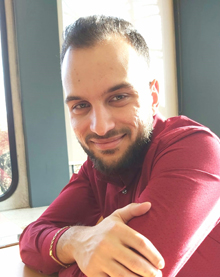 Bavly Kost is a Spiritual Care Practitioner at Scarborough Health Network in Toronto. He is dedicated to providing inclusive spiritual care support and counseling to all individuals, patients, family members and staff. He holds a double major undergraduate in History and Religious Studies and went on to complete his Bachelor of Education from York University (2012). Having completed his Master's Degree in Theology from St. Vladimir's Orthodox Theological Seminary (2014), his education path has not stopped as he recently completed a Master of Pastoral Studies degree (2019) with a focus in Spiritual Care and Psychotherapy from Emmanuel College. Bavly is a Registered Psychotherapist with the college of CRPO. When he gets time for himself, Bavly loves playing basketball and travelling.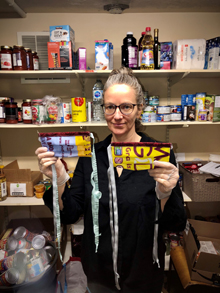 Jenni King Feheley, a recent MDiv Hons graduate from Trinity College, Faculty of Divinity, is serving the St. Clair West community through leadership as the Lay Pastor at St.Michael and All Angels Church. Jenni has been leading an incredible team of staff and volunteers in the mission to address the needs of the neighbourhood. With an increase of over 100% in attendance to St. Michael and All Angels' Food Bank, Jenni has used community relationships to extend awareness of the local food bank plight. Social media and interviews with CBC and CP24 have helped secure a wonderful amount of food to hand out to those who are in need.
Other initiatives at St. Michael and All Angels Church that Jenni is leading include Fabulous Fridays, and The Green Door Webseries episodes. Fabulous Fridays is a program that currently serves 45 families (the number is growing each week) by delivering 'cobbled together' arts and crafts materials to families who have accepted the challenge to create 'something out of nothing'. The program has generated a great deal of interest as it helps to support families during this time, and boost the wellbeing of the children (parents have reported that children are saying that Friday's have become a day they look forward to), and gives the children a sense of community and fulfillment. Further to this, Fabulous Fridays is now being operated in Mimico - the spaceship has satellites!
And then there is the Green Door. The new 5-day-a-week webseries, The Green Door, introduces viewers to Barley the dog and Nosebag the dragon, who, along with Jenni, are on a journey of making sense of the world and the coronavirus situation day by day. Prior to her studies at Trinity, Jenni was a children's educator and professional storyteller. These skills, combined with her love for serving all God's children, have led to this delightful little series which has garnered viewers from all across North America. To view episodes of the Green Door, or to hear Jenni's interview on CBC to learn more about the Food Bank, visit the St. Michael and all Angels website.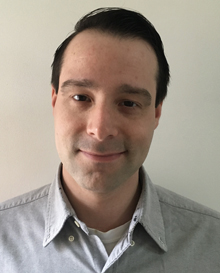 Jordan Kerr, is an Emmanuel College student in the Master of Pastoral Studies program, Spiritual Care and Psychotherapy stream.
As a Spiritual Care Practitioner at Sunnybrook Health Sciences Centre my work involves supporting patients and families of all religions and approaches to spirituality. I connect with them in the full range of emotions as they navigate their physical, spiritual, and emotional journeys with death, disease, and healing. As a Quaker, when I meet with people, I seek to connect with them on an equal basis from a common place of inner spirituality – in Quaker terms, "that of God" or the "Inner Light" in all of us. I use Spiritual Assessment as a way of discerning how that inner spirituality is expressed in their lives and work with them to sustain or strengthen their connection to it. I approach each person with curiosity and deep listening in order to meet them where they are at and then adapt my care to provide the support they are seeking in that moment. This pandemic experience has brought many new and important learning experiences both personally and professionally. On this journey, I am deeply grateful for the continued support from Emmanuel College and from my Quaker community.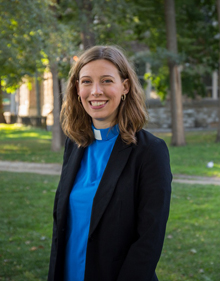 Deb Stanbury is Executive Director of ARISE Ministry. ARISE offers hope to those involved in the sex trade through providing outreach, case management, and pastoral care. Deb is a minister of The Presbyterian Church in Canada and engaged in ministry with street-involved youth and women involved in the sex-trade since 2007. She graduated from Vancouver School of Theology (MDiv 2008) and Knox College (ThM 2016) and was ordained in 2010. 
 ARISE Ministry has not shut down during this critical time, rather we have imagined new ways of offering support to the community we serve. Though we made the difficult decision on April 2 to suspend our street-level outreach services. Our case management team is continuing to support participants through phone, text, email, online platforms, and mail. We have printed a 10-week workbook curriculum on self-care and also various resources for adults and children, that were delivered by mail or email. Participants are being supported with grocery gift cards which have been greatly appreciated at this crucial time. Our case management team and peer support worker have been creative, adaptive, and available in their care for the community during this time. We have created a social media initiative of a "word of the week" engaging community members and friends of ARISE. We are also exploring various possibilities to combat the feelings of loneliness that various community members are experiencing. The loneliness has been profound and pervasive, and amongst our community members many are making unsafe decisions, and struggling with mental health and addiction concerns that we are trying to respond to as best we can in ways that feel limited and inadequate.
The trauma and anxiety surfacing and re-surfacing during this time amongst and around our community members is heightened. The demands for our support and resources have not diminished, but the ways we are able support have had to change. Hope is not cancelled, it lives here. Our staff bear witness to it in their work. We would ask for your continued prayers for ARISE and the community we support especially at this time.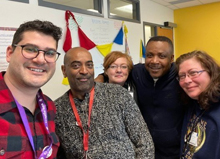 Sula Anne Kosacky: I completed the MDiv at Emmanuel College in 2013. I started in my first Clinical Pastoral Education (CPE) placement in the William Osler Health System, Brampton Civic Hospital one week before graduation. As a CPE student learning to do ministry in a culturally diverse clinical setting, my focus was on completing assessments of hospital patients' spiritual health or distress using clinical assessment models and then providing interventions to support and improve spiritual health. This work was generally done one to one at bedside in the patient's room.
By the time I started running the department in 2017, I was doing research on burnout and compassion fatigue in frontline healthcare workers. In 2018 my department started a number of support programs for frontline healthcare staff and added group support, compassion fatigue support, and mindfulness facilitation to the services we were already offering for patients and family members.
Our response to COVID has changed our department services in a few ways, outside of our regular end of life (EOL) presence in palliative care – which remains unchanged but now may include COVID patients. Most of our COVID patients are either in ICU or Respirology, where our patient support primarily includes taking in an iPad and creating virtual connections between patients and their families for much needed emotional support. We may be asked to provide comfort, pray, or just listen for families and patients who are unable to be together for support at this time. The majority of our role right now is in providing staff support. Our frontline workers are frightened, tired, and very afraid that one mistake could put their families at home in danger. Many have sent their children away to stay safer with extended family, and no one knows for how long. Many have spouses out of work right now and are facing the combined crises of family financial security with the fear of being on the front line. Resilience and hope are much needed, and that is our focus. We provide support sessions for 20-30 minutes with small groups of frontline workers in which they all have a chance to debrief and talk about the day's events and their feelings, then we include a brief mindfulness exercise for centering and stress reduction, and conclude with either some music and dancing, or anything that reconnects them to their identity outside of COVID-19.
Pictured, The William Osler Health System Spiritual Health Team (left to right): Jonathan Zarb, current Knox College student pursuing MPS in Spiritual Care; Jean Charles Denis, MDiv Trinity College, currently pursuing MPS in Spiritual Care; Kathleen Cairnie-Sorensen, MDiv Emmanuel College; Rev. Foster Simmons; Rev. Sula Anne Kosacky, MDiv Emmanuel College, Department Coordinator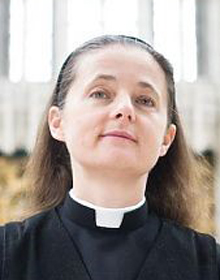 Andrea Budgey is the Humphrys Chaplain at Trinity College, and the priest-in-charge at Saint Theodore of Canterbury in Willowdale. She graduated from Trinity College with an MDiv in 2006, after graduate work in music and medieval studies. At the moment, as well as working from home, she's helping to keep the parish's outdoor Deacon's Cupboard stocked (it's available to the neighbourhood 24/7), and responding to food security requests from the community. She's also signed up to the volunteer registry established by the Willowdale Church Coalition for grocery deliveries and phone support, and to the People's Pantry project, to cook and deliver meals in the Downsview area, where she lives. On Fridays, she volunteers for the Safe Space at Saint Stephen-in-the-Fields in Kensington Market, a drop-in which offers homeless people a chance to sit (or sleep) for a few hours (appropriately distanced), use wifi, and eat a meal; she also helps to prepare food for the next morning's breakfast program. People living on the street are among those hit hardest by pandemic precautions, and tend to be overlooked by programs which focus on the shelter population. Andrea chairs the Poverty Reduction subcommittee of the Anglican Diocese of Toronto, which is working to maintain advocacy efforts for socially and economically marginalized people during this crisis.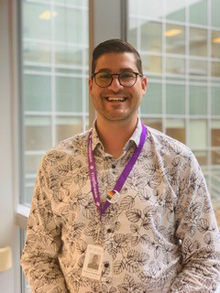 Jonathon Zarb is currently completing a Masters of Pastoral Studies - Christian Stream, with a Certificate in Spiritual Care & Psychotherapy at Knox College. His undergraduate degree was in Sexual Diversity Studies, Sociology and Religion at the University of Toronto. Through his studies and passion for the intersection of faith and identity, Jonathon found himself being called to move deeper into providing spiritual care. Jonathon completed an intensive Clinical Pastoral Education (CPE) in June 2019, and then joined William Osler Health Systems Spiritual Health Therapy and Education department. As part of this team, he provides bedside emotional and spiritual support for patients. With very limited family contact visits to hospitals due to COVID-19, Jonathon now finds himself relying on technology and virtual visitation for connecting families with their sick and dying loved ones.
In these uncertain and unprecedented times of COVID-19, Jonathon is now responding to issues of heightened anxiety, risk for burnout, and compassion fatigue amongst the hospital staff. Jonathon continues to facilitate staff wellness hours including stress reduction, mindfulness meditations, and one on one staff support. Being on the frontline, companioning with those who are suffering at this time - patients, staff and families - Jonathon is called to show compassion, care and empathy.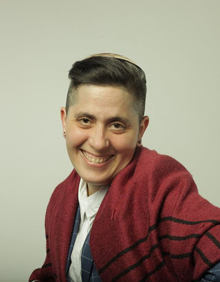 Orev Reena Katz haKohenet, Masters of Pastoral Studies Candidate (Emmanuel College, Class of 2020), practices spiritual care with people who are incarcerated in the federal prisons of Southern Ontario, the traditional territory of the Anishnabek, Haudenosaunee, Huron-Wendat, Mohawk, Odawa and Mississauga of New Credit in Williams, Treaty 57 and 13 territories. Orev is the Jewish Chaplain at Collins Bay, Joyceville and Beaver Creek Institutions, where she provides progressive, social justice-based Jewish education, and one-on-one counselling to people incarcerated in minimum, medium and max security prisons. She is also the spiritual care provider for two front-line staff teams at the Prisoner HIV/AIDS Support and Action Network (PASAN). Chaplain Orev's work involves journeying with inmates through restorative and transformative justice to find meaning, hope and accountability. She works with people in all security levels and designations, including those diagnosed with a range of mental health, addiction and aging issues.
During this COVID crisis, Orev has been providing additional support to PASAN staff through online group and one-on-one sessions. Because the federal correctional chaplains have been shut out of the prisons since March 18, Orev and her colleagues have been organizing to put pressure on the National Chaplaincy Office to find creative solutions to the lack of service using the technology available in every prison. She has also been supporting other grassroots decarceration organizations such as Think 2wice, and advocating for mass testing in nursing homes, such as the one her mother resides in.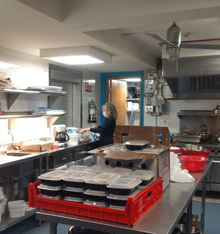 Maggie Helwig is an author and human rights activist. She received an MDiv (Honours) from Trinity College in 2011, and was ordained a deacon in the Anglican Church of Canada in the same year, and priested in 2012. In Maggie's words: "I'm the priest of a small Anglican church in downtown Toronto, and although our worship services are suspended, we are continuing our already-active street outreach programming. We run a drop-in on Friday nights, and breakfasts on Saturday and Sunday, and we also have a group which cooks for the Moss Park Overdose Prevention Site. It's been a challenge adapting our programmes to the COVID-19 pandemic, and we know that, even running them as safely as we can, it's not without risk, but people living on the street, whose lives are in ongoing crisis anyway, have now lost almost all the supports on which they depended, and we felt it was crucial to keep things going here."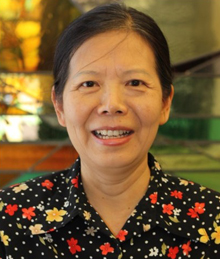 Jane (Jianhui) Xiong is a Spiritual Care Practitioner at Scarborough Health Network. She is a qualifying Buddhist Psycho-Spiritual Care Provider and a Psychotherapist in training. She has completed her academic requirements for Master of Pastoral Studies in the Buddhist stream from Emmanuel College. Jane is also a registered acupuncturist working in private settings. Before joining TST, Jane worked as a clinical microbiologist and researcher in China, the United Kingdom and Canada. Her vision of body, mind and spirit integration model of practice reflects the Buddhist mandate of great compassion to others and self. Jane uses her professional knowledge and skills to meet clients where they are and journey with them for their health and mental well-being. During the progress of this COVID-19 pandemic, she is working together with her colleagues to provide expanded spiritual care services to hospitalized patients, their families and hospital staff. Jane's work is to address the emotional and spiritual concerns and well-being. As a retired microbiology specialist, she is able to use her professional expertise to help to tackle the pandemic through COVID-19 education and best practice sharing with her classmates, families and friends.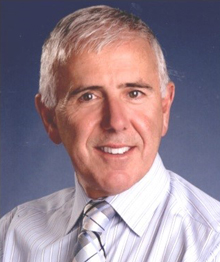 Marc Doucet is an ordained Order of Ministry member with the United Church of Canada. He graduated from St. Michael's College with an MDiv in 1980 and graduated with a DMin from St. Stephen's College in 2018. He is a Registered Psychotherapist with the College of Registered Psychotherapists of Ontario. He is also past Chair of the Education Standards Commission and past President of the Board of Directors of the Canadian Association for Spiritual Care. He is presently the manager and CASC Clinical Educator at the University Health Network. The challenge COVID-19 brings to spiritual care practitioners is connecting patients with their loved ones and families. With limited visitor policies, or no visitation, patients are isolated and families are often not able to be present with patients at the end of life. We are using technology, iPads, to connect families with loved ones, and even at the time of death using iPads to allow families to see their loved one, to say their good-byes, and to offer prayers.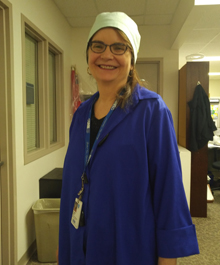 Elaine Nagy RP, (Knox College 1985) is an ordained Presbyterian minister, Certified Supervisor-Educator in Clinical Pastoral Education and Spiritual Care Practitioner at the Princess Margaret Cancer Centre site of the University Health Network in Toronto. Elaine is also currently the President of the Canadian Association for Spiritual Care/Association canadienne de soins spirituels. In the course of her clinical work Elaine sees some patients who have been exposed to the COVID-19 virus and has provided bereavement support to families of young patients who were managing to endure cancer treatment but then died suddenly due to the virus. Some of the additional stresses in the environment where Elaine works is that many of the patients struggle with a weakened immune system due to chemotherapy prior to coming to the cancer center, and will still need to undergo cancer treatment once they have recovered from having had the virus. Elaine is very grateful that she is able to provide emotional and spiritual support on a regular basis to staff who are feeling stressed and that she herself is part of a large and supportive Spiritual Care Team.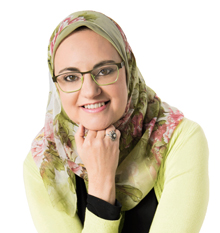 Amira Ayad holds a Masters degree in Pharmaceutics and a PhD in Natural Health. She will be graduating in May 2020 with a Masters in Pastoral Studies-Muslim Stream from Emmanuel College. Amira was a faculty member at the faculty of Pharmacy, Egypt, and at the Institute of Holistic Nutrition in Toronto. She is an author, Natural Health Consultant, Registered Psychotherapist (Qualifying), and currently works as a Spiritual Care Practitioner at Scarborough Health Network. In 2016, Amira founded the Women Whispers Academy, an online platform that aims to help women listen to their Body Whispers® before they turn into screams. During this challenging time of COVID-19 pandemic, Amira is at the front lines supporting patients, family and staff at the hospital and she is also spreading awareness of the spiritual/emotional aspects of the pandemic though her personal online platform. Read one of her recent blogs, here.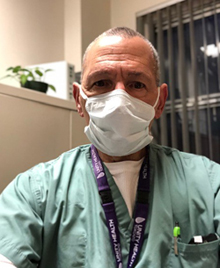 Jeff Braff, an ordained Buddhist monk and a retired infectious disease epidemiologist, taught for many years at the School of Public Health at the University of California-Berkeley. He graduated from Emmanuel College with a Master of Pastoral Studies in Buddhism degree, and also completed four units of Clinical Pastoral Education on the Oncology Unit of UCSF Benioff Children's Hospital in San Francisco. In addition to chairing two Research Ethics Boards, Jeff is now working as a Spiritual Care Provider at St. Michael's Hospital in downtown Toronto. He is just beginning the DMin program at TST, through Regis College, where he hopes to focus his research on how to alleviate the suffering of ICU and Palliative Care hospital staff who must constantly cope with the illness and death of their patients, and now must deal with the added burden on their patients and themselves of the COVID-19 pandemic.