he building that houses the Toronto School of Theology (TST) administrative offices is also home to a variety of organizations, many of which are faith-based, ecumenical organizations. These organizations, along with TST, intentionally decided to share a building in order to foster formal and informal connections between faith-based organizations in Toronto.
The Canadian Centre for Brief Coaching (CCBC)
CCBC is a globally recognized institute for coach training, leadership development, and community building through transformative dialogues. We teach how people can create and leverage positive changes and growth in organizations, groups, and individuals through Solution-Focused Brief Coaching. We believe that recognizing one's preferred conditions and interactions, while building on existing resources, are the key elements for sustainable change. CCBC's key activities focus on the following: the Coaching Clinic, which offers coaching services specialized in the Solution-Focused method; the Leadership Institute, which delivers education and training in Solution-Focused coaching as well as leadership and organizational development; and the Research Centre, which functions as a hub for solution-focused practitioners and researchers in practice and pedagogy, providing essential support and resources for the worldwide Solution Focused communities.
Haesun Moon, Executive Director
learn@briefcoaching.ca | 647-245-4071
Website: The Canadian Centre for Brief Coaching
Forum for Intercultural Leadership and Learning (FILL)
The Forum for Intercultural Leadership and Learning of the Canadian Council of Churches is an ecumenical Christian partnership through which Canadian Churches work toward intercultural leadership development and ministry learning in Canada and globally.
Through the Forum for Intercultural Leadership and Learning, Canadian Churches come together for reflection on issues of contemporary intercultural mission and ministry; provide innovative educational resources and programs for intercultural learning, leadership development and ministry; participate in learning and dialogue with church members and wider communities of faith about a society that fully honours diversity and God's unequivocal welcome; and network and support persons directly engaged in ministry across cultural and other differences.
Jonathan Schmidt, Director
schmidt@councilofchurches.ca | 416-972-9494 ext 26
Website: Forum for Intercultural Leadership and Learning
The Canadian Council of Churches (CCC)
The CCC is the most inclusive ecumenical body in Canada and one of the broadest ecumenical councils in the world. Its membership currently consists of 22 denominations of the Anglican, Roman Catholic, Protestant, Evangelical and Eastern and Oriental Orthodox traditions. The officers and staff of the Council are drawn from the diversity of traditions represented by the member denominations.
The CCC was founded in 1944 to bring churches into encounter with one another, and as such, the CCC is a place where all voices hold equal weight. The members act together in areas of Faith and Witness, Justice and Peace, and Biotechnology, according to their particular theologies and polities, and centered in their common Trinitarian witness.
An example of recent work is the leadership of the CCC in a Religious Leaders' Summit held in parallel with the G8 meeting to comment on and challenge the G8 for the sake of God's people.
Peter Noteboom, General Secretary
admin@councilofchurches.ca | 416-972-9494
Website: Canadian Council of Churches
The Anxiety Clinic
The Anxiety Clinic is a team of therapists providing therapy, counselling, coaching and support to individuals, couples, families, and groups using a wide variety of therapeutic techniques and modalities. The team includes psychologists, psychotherapists and executive/life coaches and services are offered in-person and virtually. The Anxiety Clinic also provides both free and professional workshops on campus that teach anxiety management skills and various forms of counselling and coaching. Todd Kaufman, RP is the Clinical Director and Toronto's Anxiety Specialist. He created The Anxiety Clinic out of his firm belief that when given the skills, people and organizations can create profound changes in their lives and organizations. Appointments and workshops can be booked over the phone or online.
Todd Kaufman, Clinical Director
todd@theanxiety.clinic | 1-800-699-3396
Website: The Anxiety Clinic
Pregnancy Care Centre (PCC)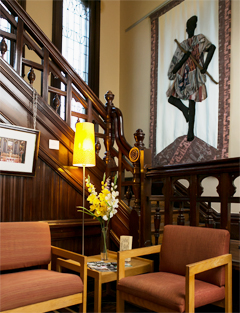 The Pregnancy Care Centre (PCC) was established in 1984 as a Christian non-profit, non-political, charitable organization to provide compassionate community care to women and families facing an unexpected pregnancy so that they can thrive. We envision a city where no woman faces an unexpected pregnancy alone; where every mother and father has access to care, support, and community; and where parents and their unborn children are treasured by all. 
Our downtown location within the TST building is one of our four locations in the city of Toronto where we offer free and confidential support. Our services include pregnancy tests, options information, parenting resources and connections to supportive Christian community. For more information about PCC services and hours of operation visit our website (link below).
Linda Baartse, Executive Director
info@pregnancycarecentre.og | 416-229-2607 (main office) | 647-505-8390 (TST location)
Website: Pregnancy Care Centre
Women's Inter-Church Council of Canada (WICC)
WICC is the only national women's ecumenical organization in Canada. The mission is to empower Christians to pursue justice, peace and reconciliation by standing together in prayer and action. The WICC Board is a diverse and vibrant group of women with representatives from ten church denominational partners. As well as coordinating the annual World Day of Prayer and the Fellowship of the Least Coin in Canada, WICC works in coalition with other organizations to restore hope to women touched by injustice including racism and violence against women.
Catherine MacKeil, Executive Director
wicc@wicc.org | 416-929-5184
Website: Women's Inter-Church Council of Canada