A View from the (Other) Bridge: a Woman's Perspective on Ignatian Spirituality
Date
Time
Where
Regis College
100 Wellesley Street West
Toronto, ON M5S 2Z5
Contact Info
416-922-5474
Event Attachment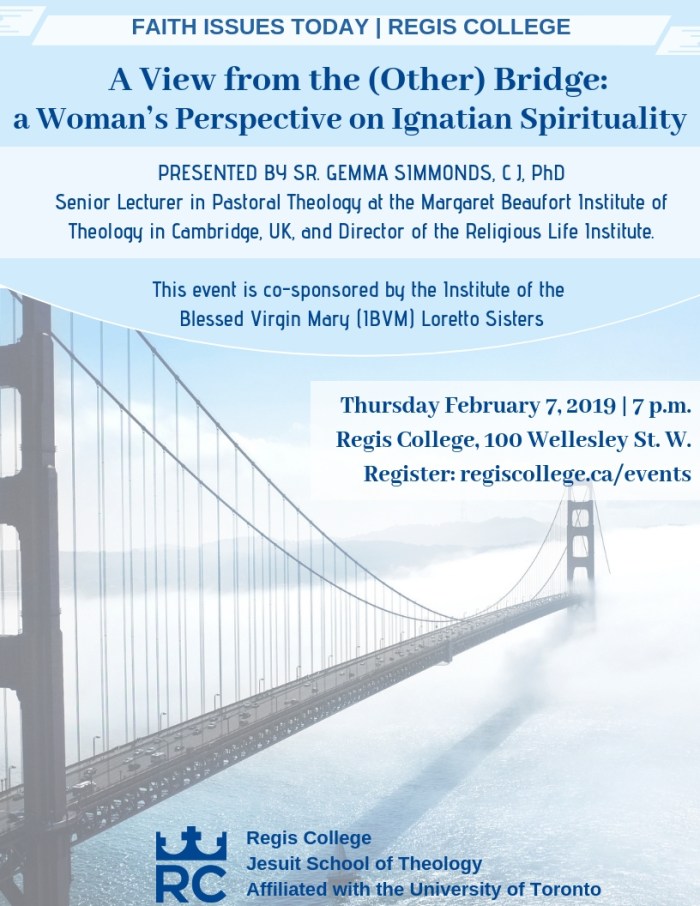 Event Details
For centuries women have been collaborating with the Jesuits in the pastoral practice of the Ignatian spiritual heritage. In doing so they have brought to bear on it a particular creative wisdom born of their own experience. Through the perspective of Mary Ward and other Ignatian women, this lecture explores the questions raised by looking at the heritage from another viewpoint.
Guest-speaker Gemma Simmonds, CJ, is a Senior Lecturer in Pastoral Theology at the Margaret Beaufor Institute of Theology in Cambridge, UK, and Director of the Religious Life Institute. Gemma Simmonds is a religious sisters of the Congregation of Jesus and an honorary fellow of Durham University. She is a past president of the Catholic Theological Association of Great Britain and has studied at the universities of Paris, Cambridge, London and Rio de Janeiro. She studied at St. Edmund's College, Cambridge for a doctorate on the early Jansenists. Her most recent publication is The Way of Ignatius: a Prayer Journey through Lent (London, SPCK, 2018).
Co-sponsored by the Institute of the Blessed Virgin Mary (IBVM) Loretto Sisters, this event is open to the public. Register for this FREE event here.