TST 50th Anniversary Art Exhibition: Memory and Hope
Date
Date of Event:
September 22, 2022

to

October 18, 2022
Time
Where
Wycliffe College, Leonard Hall
5 Hoskin Avenue
Toronto, ON M5S 1H7
Contact Info
416-946-3535
Event Attachment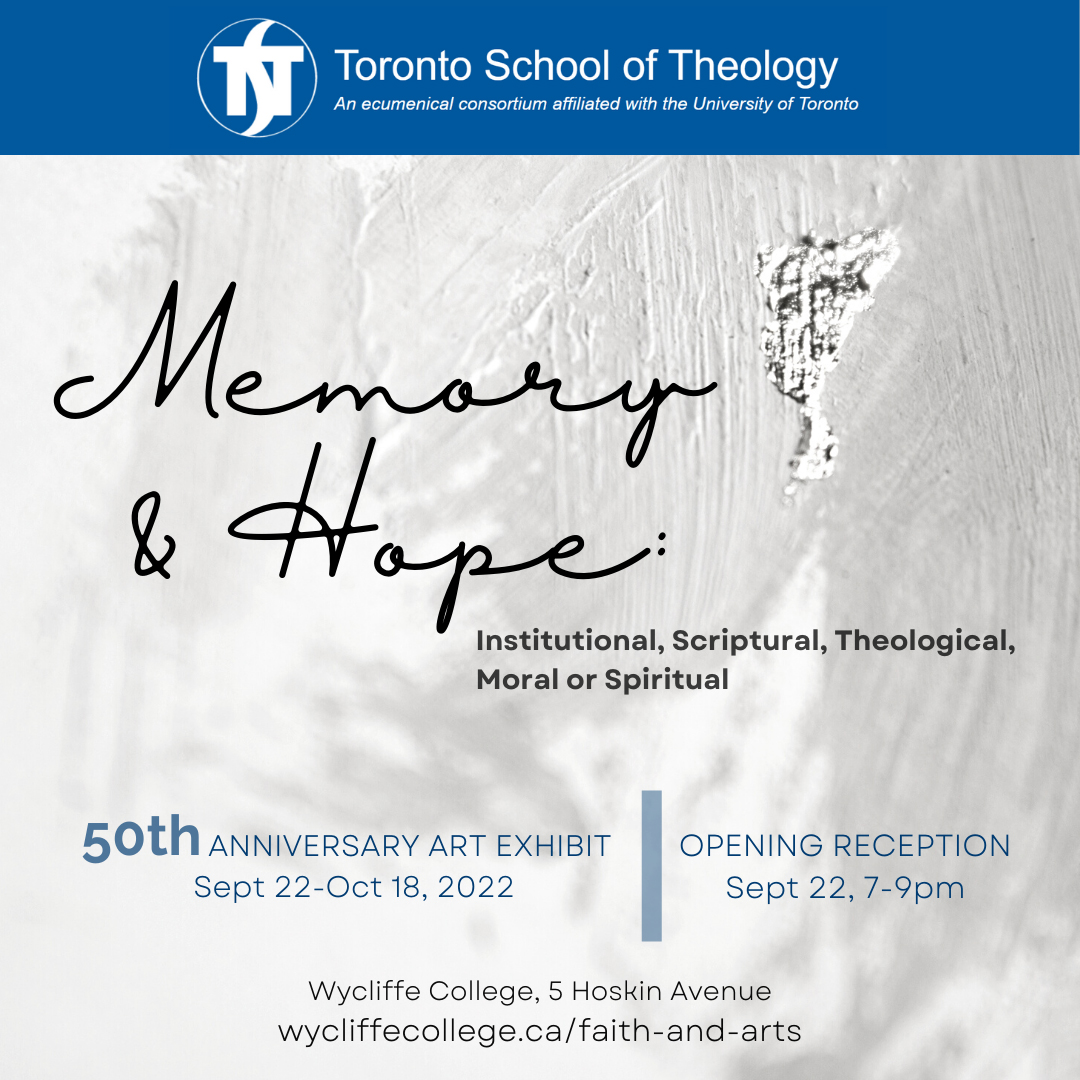 Event Details
TST's member college, Wycliffe College, is hosting an exhibition of the work of 24 artists as a tribute to the Toronto School of Theology's 50th Anniversary with the theme, "Memory and Hope".
Protocols for the pandemic meant a postponement of many months – and the original plans for the celebration of the 50th anniversary of TST included a visual art exhibition.
The theme for the exhibition - Memory and Hope was chosen, inviting a look back and a look forward. Careful work was done to find artists who had association with TST and a curatorial committee selected the works to be included. Featuring the art of Amira Ayad, Linda Chen, Maria Gabankova, David Holt and others, the intent of the exhibition is to capture something of the spirit of TST through creative artistic expression. In hosting this exhibit, the community acknowledges the importance of the aesthetic in the life of faith and in the work of theology. The arts are able to provide perspectives on theological themes that enrich both thought and experience. The hope is that this exhibition will serve that end.
The opening reception is Thursday, September 22, 7:00 - 9:00 pm
The exhibition runs Thursday, September 22 to Tuesday, October 18
For the hours the exhibition will be open to the public and for more information on the artists, visit the Wycliffe College website.