Knox College Summer Program: Four-Lecture Series
Date
Date of Event:
August 8, 2017
to
August 18, 2017
Time
Where
Knox College
59 St. George Street
Toronto, ON M5S 2E6
Contact Info
416-978-4500
Event Attachment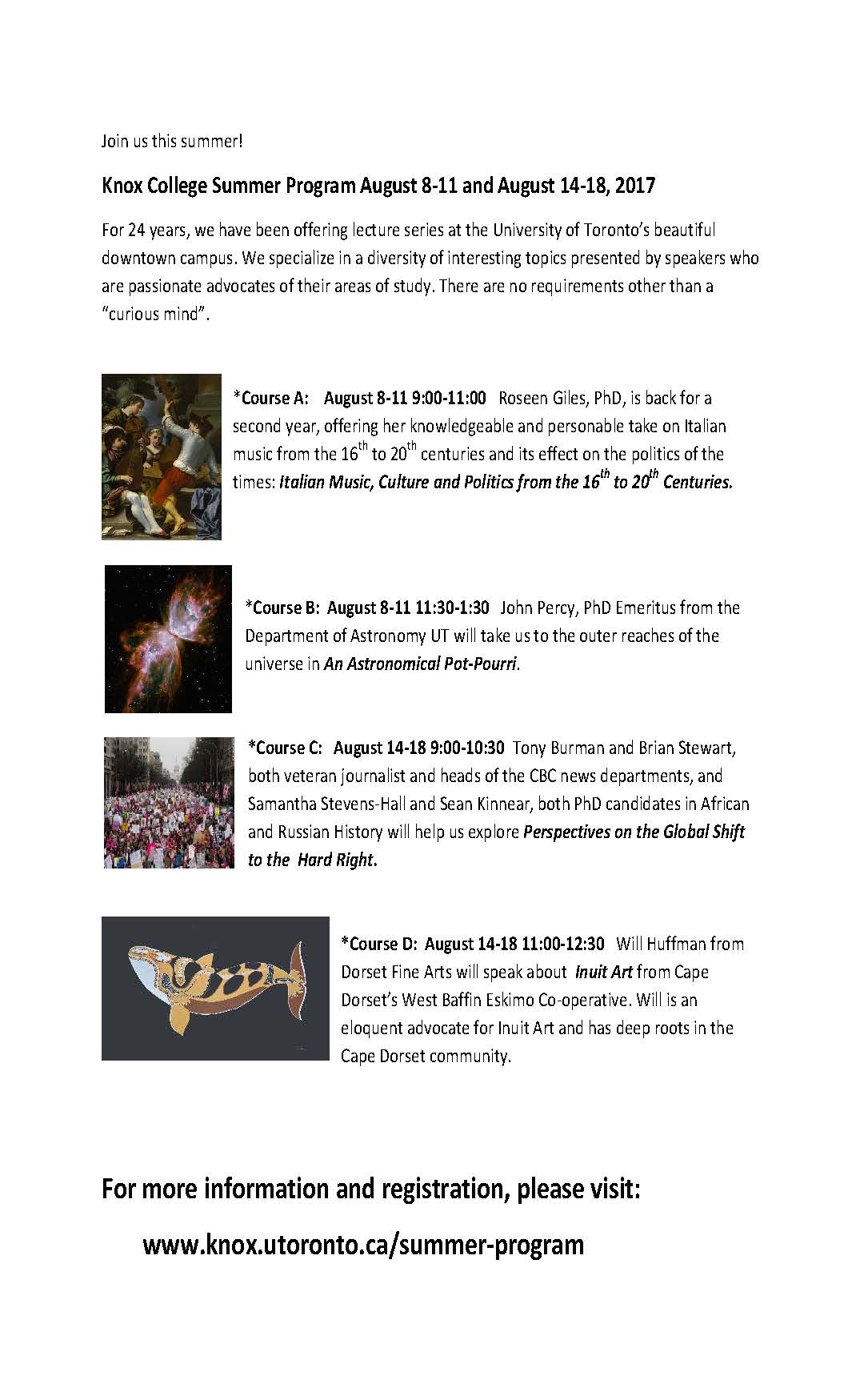 Event Details
For 24 years, Knox College has been offering lecture series at the University of Toronto's beautiful downtown campus. We specialize in a diversity of interesting topics presented by speakers who are passionate advocates of their areas of study. There are no requirements other than a "curious mind".
Course A: August 8-11, 9:00 - 11:00 am
Roseen Giles, PhD, is back for a second year, offering her knowledgeable and personable take on Italian music from the 16th to 20th centuries and its effect on the politics of the times: Italian Music, Culture and Politics from the 16th to 20th Centuries.
Course B: August 8-11, 11:30 am - 1:30 pm
John Percy, PhD Emeritus from the Department of Astronomy UT will take us to the outer reaches of the universe in An Astronomical Pot-Pourri.
Course C: August 14-18, 9:00 - 10:30 am
Tony Burman and Brian Stewart, both veteran journalist and heads of the CBC news departments, and Samantha Stevens-Hall and Sean Kinnear, both PhD candidates in African and Russian History will help us explore Perspectives on the Global Shift to the Hard Right.
Course D: August 14-18, 11:00 am - 12:30 pm
Will Huffman from Dorset Fine Arts will speak about Inuit Art from Cape Dorset's West Baffin Eskimo Co-operative. Will is an eloquent advocate for Inuit Art and has deep roots in the Cape Dorset community.
For more information including the cost and how to register, click on the Event Website Link above or here.