Body, Mind & Spirit Workshop: Learn Skills for your Pandemic Coping Toolkit
Date
Date of Event:
July 29, 2020
to
September 2, 2020
Time
Time of event:
Wednesdays (date range above), 7:00 - 8:30 pm
Where
Online Event via Zoom
Contact Info
Event Attachment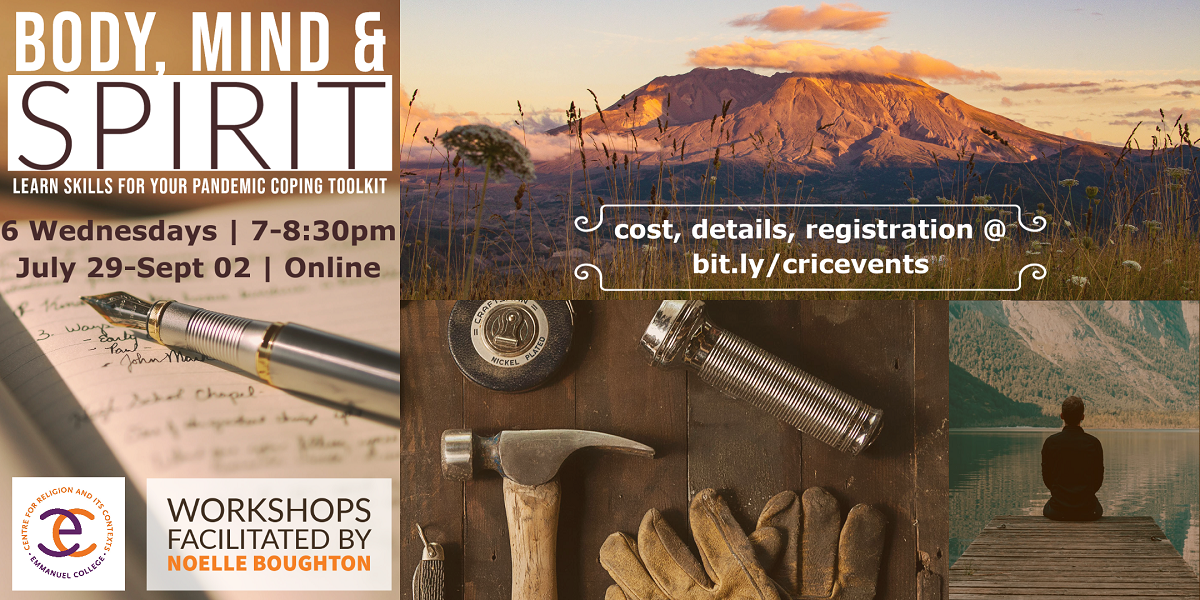 Event Details
This workshop offers six sessions, and practices, for releasing tension, dealing with your emotions, and bridging your sense of social isolation. We will spend two weeks on each of the body, mind and spirit modalities. You will practice each exercise for 20 minutes before reflecting on your experience with art or journaling. You will then have a chance to reconnect in the community regathering to talk about your "take-away" from the session. Participants from all denominations and faith traditions are welcome!
By the end of the course, you will have a broad range of tools for coping during these times of pandemic, social unrest, and the "new normal." The course includes:
2 body sessions: muscle relaxation & body love (reiki)
2 mind sessions: peace meditation & anger journal
2 spirit sessions: heartfelt gratitude & beauty's joy (mindful appreciation)
Workshop Facilitator:
Noelle Boughton, a frequent Broadview Magazine contributor and author of Margaret Laurence: A Gift of Grace, A Spiritual Biography, is also a spiritual director and workshop facilitator who's learned the power of transformation. Join her to learn how you can increase your transformation skills, too, even in these unusual times.
Registration Fees:
$204, General
$102, Emmanuel College Students / Alumni/ae / Seniors (65+)
Get more information and register, here.