Welcome to the Toronto School of Theology
J. Dorcas Gordon, Interim Director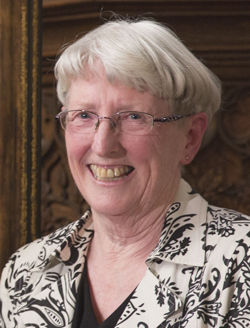 It's great to welcome you to our website where I know you will find abundant information about our mission and programs, our faculty, staff and students.  If you have any questions that we haven't answered or if you'd like clarification about anything that appears confusing, please be in touch with us, here.
As part of my welcome let me say a few words about our mission and our values.
The Toronto School of Theology (TST) is a vibrant learning community, which values diversity in belief and practice. Incorporated in 1970, TST was founded by seven denominational colleges, which continue, now almost fifty years later, their commitment to working together to offer excellence in a multiplicity of programs of study. While we concentrate on Christian theology, and each of our member schools has a Christian denominational connection, we also have students and faculty from other faith traditions. We are intentionally conscious about working in a multi-faith and culturally plural context. Within the context of a Memorandum of Agreement with the University of Toronto our students in degree programs that are offered conjointly with the university have full access to the university's library system, one of the top three academic research library systems in North America. 
We have over 900 students and over 300 core and adjunct faculty members. Our students range in age from their early 20s to their 80s. They represent over fifty different countries and over sixty different denominations. New programs are increasingly attracting students from a variety of religious backgrounds. They come for different reasons: perhaps to train for a professional career, to research specific academic interests, to learn more about their faith, or some combination of these.
As a consortium, we operate in a decentralized way.  Each of our member schools and our three affiliate schools has its own ethos, values, theological interests and tendencies, institutional mission, and teaching strengths. At the same time we share teaching and library resources, we work together in our planning and operations; and we're committed to a common core of academic policies and procedures. Everyone who is part of the TST is enriched by such a stimulating and dynamic learning environment.