Univesity of St. Michael's College
Date
Time
Where
University of St. Michael's College, Muzzo Family Alumni Hall, Room 400
121 St Joseph Street
Toronto, ON M5S 3C2
Contact Info
416-926-2251
Event Details
"The Church and Contemporary Art", presented by Bishop Paul Tighe, Adjunct Secretary of the Pontifical Council for Culture, Rome
Followed by a reception and celebration of Fr. Dan Donovan's 80th birthday in Father Madden Hall, 100 St Joseph Street.
Free and open to the public. RSVP here or 416-926-2251.
Sponsored by the Christianity and Culture Program at the University of St Michael's College through the generosity of Angela Macri and George Macri.
Event Attachment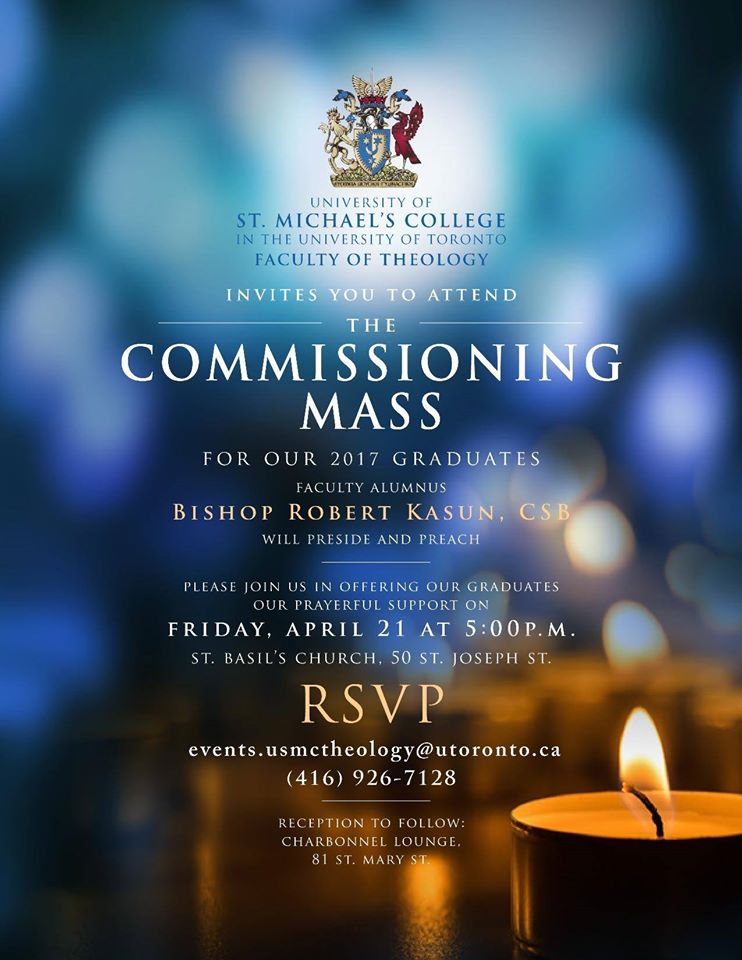 Event Details
You are invited to join St. Michael's College as they pray for their newest graduates preparing to engage in a life of ministry. All students, faculty, alumni and the broader community are invited.
RSVP to events.usmctheology@utoronto.ca or 416-926-7128
Event Details
The Faculty of Theology invites you to attend a lecture by Dr. Mary Hess, the Patrick and Barbara Keenan Visiting Chair in Religious Education.
Admission is free, all are welcome.