Lecture/Symposium/Colloquium
Date
Time
Where
University of Toronto, Convocation Hall
31 King's College Circle
Toronto, ON M5S 1A1
Contact Info
416-946-3535
Event Attachment

Event Details
Has a scientific explanation of the universe replaced the need for God as cause of its origins? Could life on our planet exist apart from divine intervention? Is there evidence for a designer?

Join us live at Convocation Hall, University of Toronto, or stream to your site via YouTube as we explore whether or not God is necessary to explain our universe. We are bringing together the top minds for this two-hour dialogue. We invite you to be a part of the conversation on March 19, 2016, "What Is Behind It All? God, Science and the Universe."

The Religion and Society Series is a movement to generate conversations on matters of faith. The purpose of the Series is to play a catalytic role in helping community groups and churches across Canada to engage people in conversation on topics that deeply matter to individuals and society.

Get more information and purchase tickets here.
Date
Time
Where
Emmanuel College, Room 302
75 Queen's Park Crescent
Toronto, ON M5S 1K7
Contact Info
647-999-7490
Event Attachment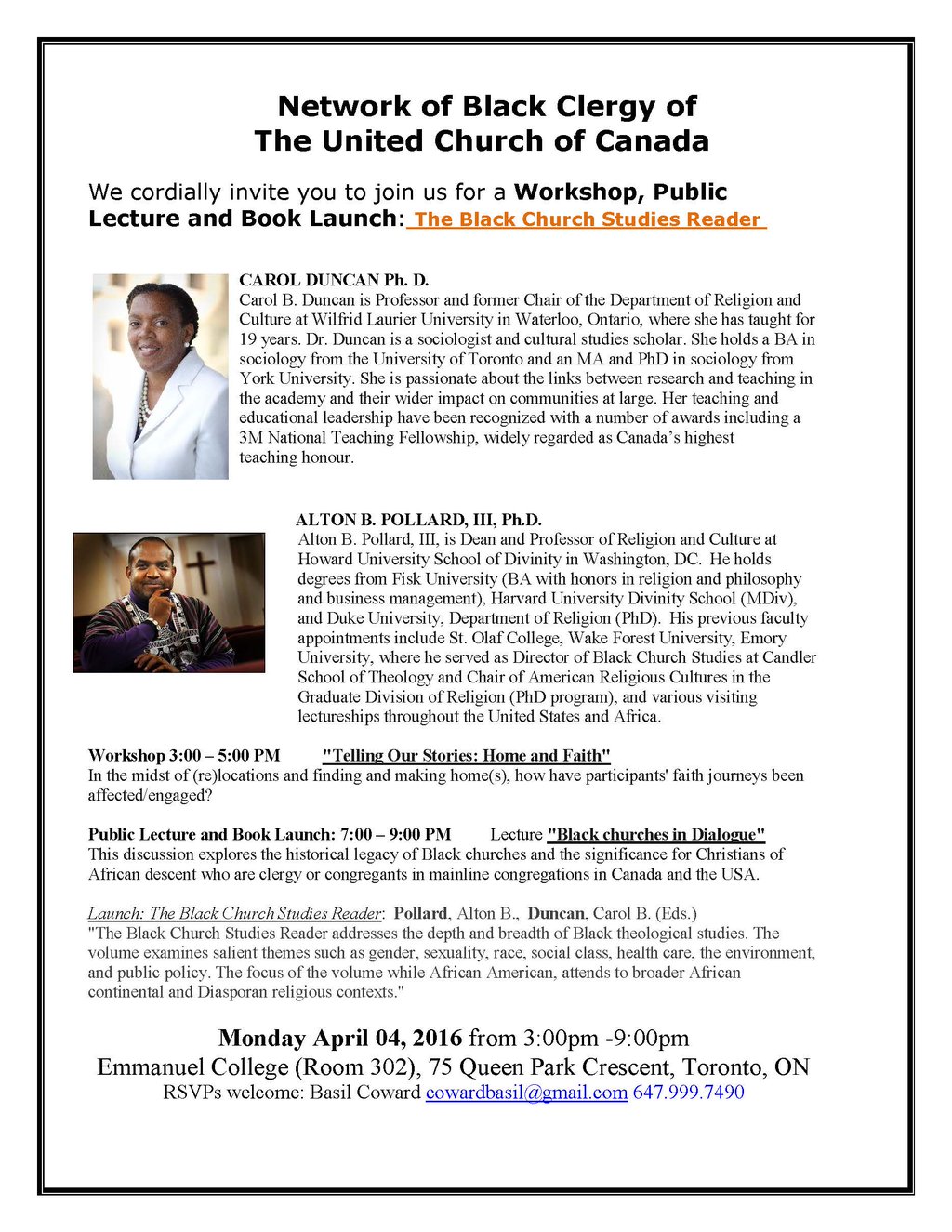 Event Details
3:00 - 5:00 pm: Workshop, "Telling Our Stories: Home and Faith"
7:00 - 9:00 pm: Public Lecture, "Black Churches in Dialogue" / Book Launch, "The Black Church Studies Reader"
See event attachment above for full details.
Date
Time
Where
University of St. Michael's College, St. Basil's Church
50 St. Joseph Street
Toronto, ON M5S 1J4
Contact Info
events.usmctheology@utoronto.ca
Event Attachment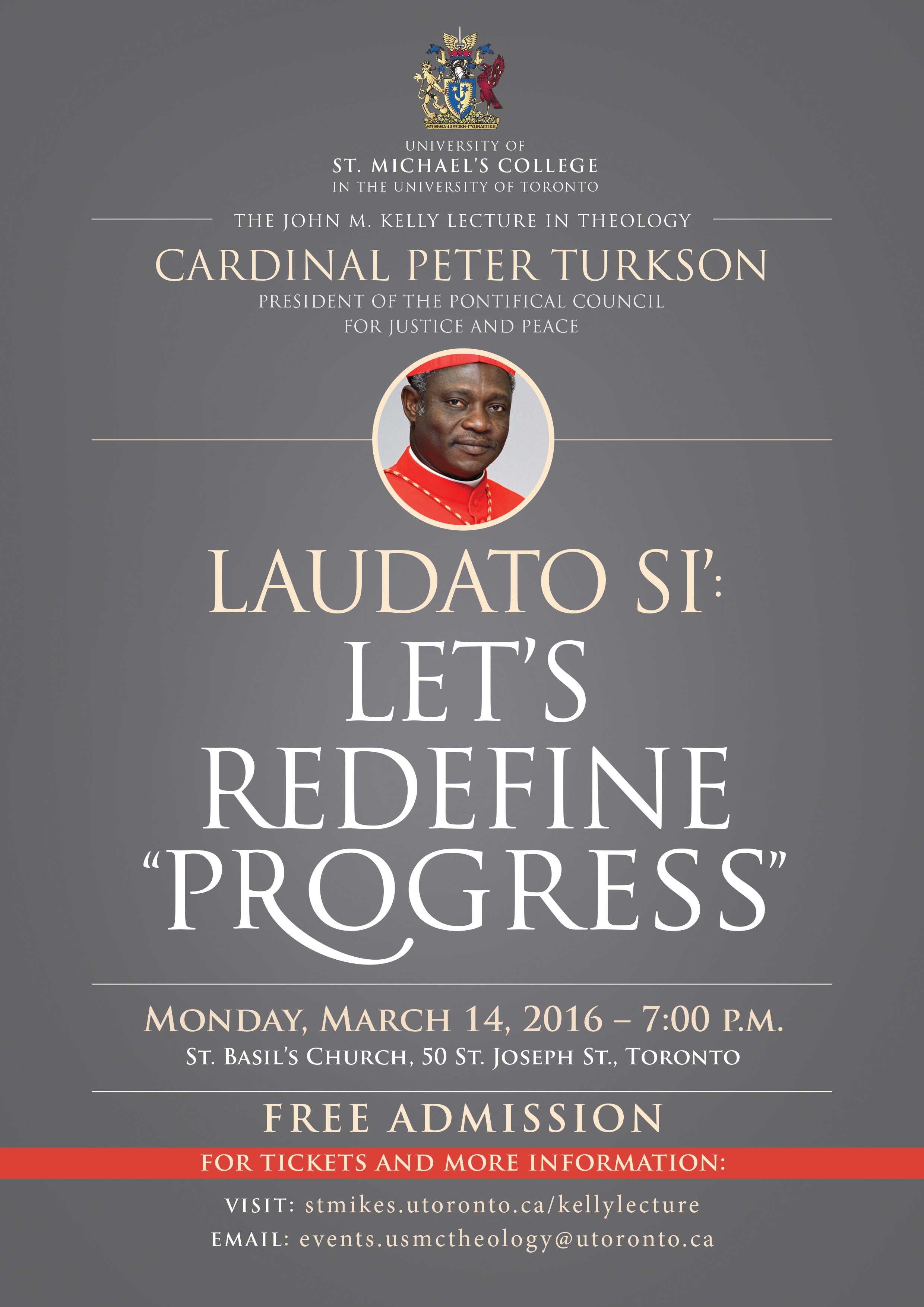 Event Details
Cardinal Peter Turkson, President of the Pontifical Council for Justice and Peace, presents Laudato Si': Let's Redefine "Progress"
This event is FREE, but you do need to register by emailing: events.usmctheology@utoronto.ca
About Cardinal Turkson
Cardinal Peter Turkson is the President of the Pontifical Council for Justice and Peace and Archbishop Emeritus of Cape Coast, Ghana. He served as President of the Ghana Catholic Bishops' Conference from 1997 to 2005, and has served as Chancellor of the Catholic University College of Ghana since 2003.
A passionate supporter of Laudato Si': On Care for our Common Home, Pope Francis' recent encyclical on the environment, Cardinal Turkson told attendees at last year's UN Summit on Climate Change that we "cannot remain blind to the grave damage done to the planet, nor can we remain indifferent to the plight of the millions of people who most bear the burden of such destruction."
For a complete biography of the Cardinal, please click here.
Date
Time
Where
Regis College, St. Joseph Chapel
100 Wellesley Street West
Toronto, ON M5S 2Z5
Contact Info
416-922-5474
Event Attachment
Event Details
Stephen Scharper, Associate Professor in the Department of Anthropology, U of T Mississauga and School of the Environment, will present the 2016 Royackers Lecture, "Let Us Sing as We Go" speaking on Pope Francis, Laudato Si', and the Quest for an Integral Ecology.
Pope Francis's melding of poverty and ecological integrity in his encyclical Laudato Si' represents a critical emergence in Catholic social teaching. Yet, given his international pastoral presence and palpable humility, his search for an "integral ecology" represents something deeper and potentially more far-reaching. The larger implications of this quest will be explored in this presentation, including its impact on international political and moral approaches to climate change.
A reception will follow the lecture.
This event is fully booked and has a wait list. If you are no longer able to attend, please email Student Services to cancel and free a seat for someone else. Thank you for your interest.
The event is FREE but seating is limited. Please pre-register below by clicking here or calling 416-922-5474, ext. 221.