Knox College
Date
Date of Event:
Tuesday, November 10, 2015
to
Thursday, November 12, 2015
Time
Where
Knox College
59 St. George Street
Toronto, ON M5S 2E6
Contact Info
416-978-2787
knox.communications@utoronto.ca
Event Attachment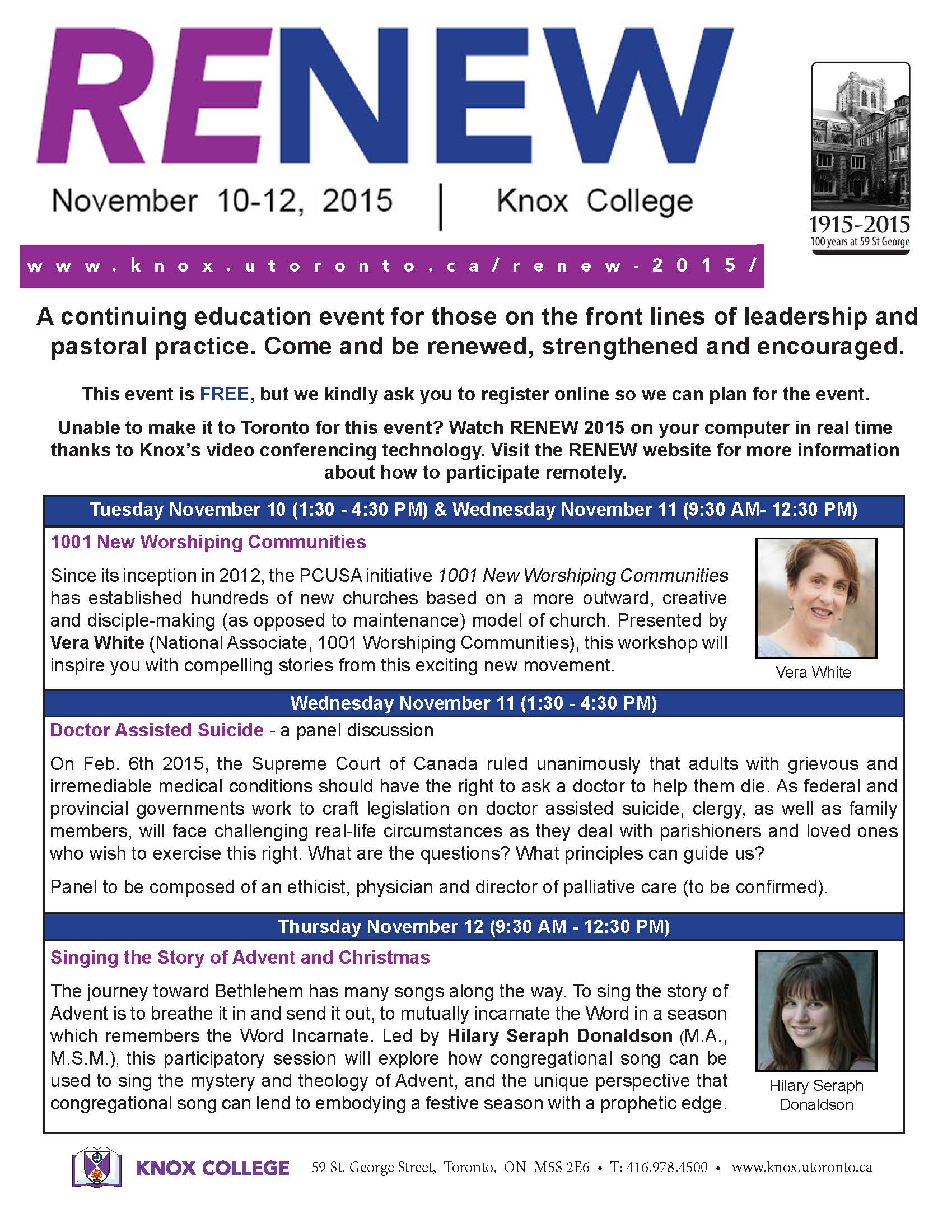 Event Details
RENEW 2015 is a continuing education event for those on the front lines of leadership and pastoral practice. Come and be renewed, strengthened and encouraged.
This event is FREE, but we kindly ask you to register online so we can plan for the event.
Unable to make it to Toronto for this event? Watch RENEW 2015 on your computer in real time thanks to Knox's video conferencing technology. Visit the RENEW website for more information about how to participate remotely.
Dates and Times (the full schedule is available on the event website):
Tuesday, November 10: 1:30 – 4:30 pm
Wednesday November 11: 9:30 AM – 12:30 PM & 1:30 – 4:30 PM
Thursday November 12: 9:30 AM – 12:30 PM
WORKSHOPS AND PRESENTERS:
Nov 10 and 11: 1001 New Worshiping Communities - with Vera White
Since its inception in 2012, the PCUSA initiative 1001 New Worshiping Communities has established hundreds of new churches based on a more outward, creative and disciple-making (as opposed to maintenance) model of church. Presented by Vera White (National Associate, 1001 Worshiping Communities), this workshop will inspire you with compelling stories from this exciting new movement.
Nov. 11: Doctor Assisted Suicide - a panel discussion
On Feb. 6th 2015, the Supreme Court of Canada ruled unanimously that adults with grievous and irremediable medical conditions should have the right to ask a doctor to help them die. As federal and provincial governments work to craft legislation on doctor assisted suicide, clergy, as well as family members, will face challenging real-life circumstances as they deal with parishioners and loved ones who wish to exercise this right. What are the questions? What principles can guide us? Panel to be composed of an ethicist, physician and director of palliative care (to be confirmed).
Nov. 12: Singing the Story of Advent and Christmas - with Hilary Seraph Donaldson
The journey toward Bethlehem has many songs along the way. To sing the story of Advent is to breathe it in and send it out, to mutually incarnate the Word in a season which remembers the Word Incarnate. Led by Hilary Seraph Donaldson (M.A., M.S.M.), this participatory session will explore how congregational song can be used to sing the mystery and theology of Advent, and the unique perspective that congregational song can lend to embodying a festive season with a prophetic edge.
For more information about the event and to register online please visit the Knox college website here.
Date
Date of Event:
Monday, September 28, 2015
Time
Where
Knox College
59 St. George Street
Toronto, ON M5S 2E6
Contact Info
416-978-4500
Event Attachment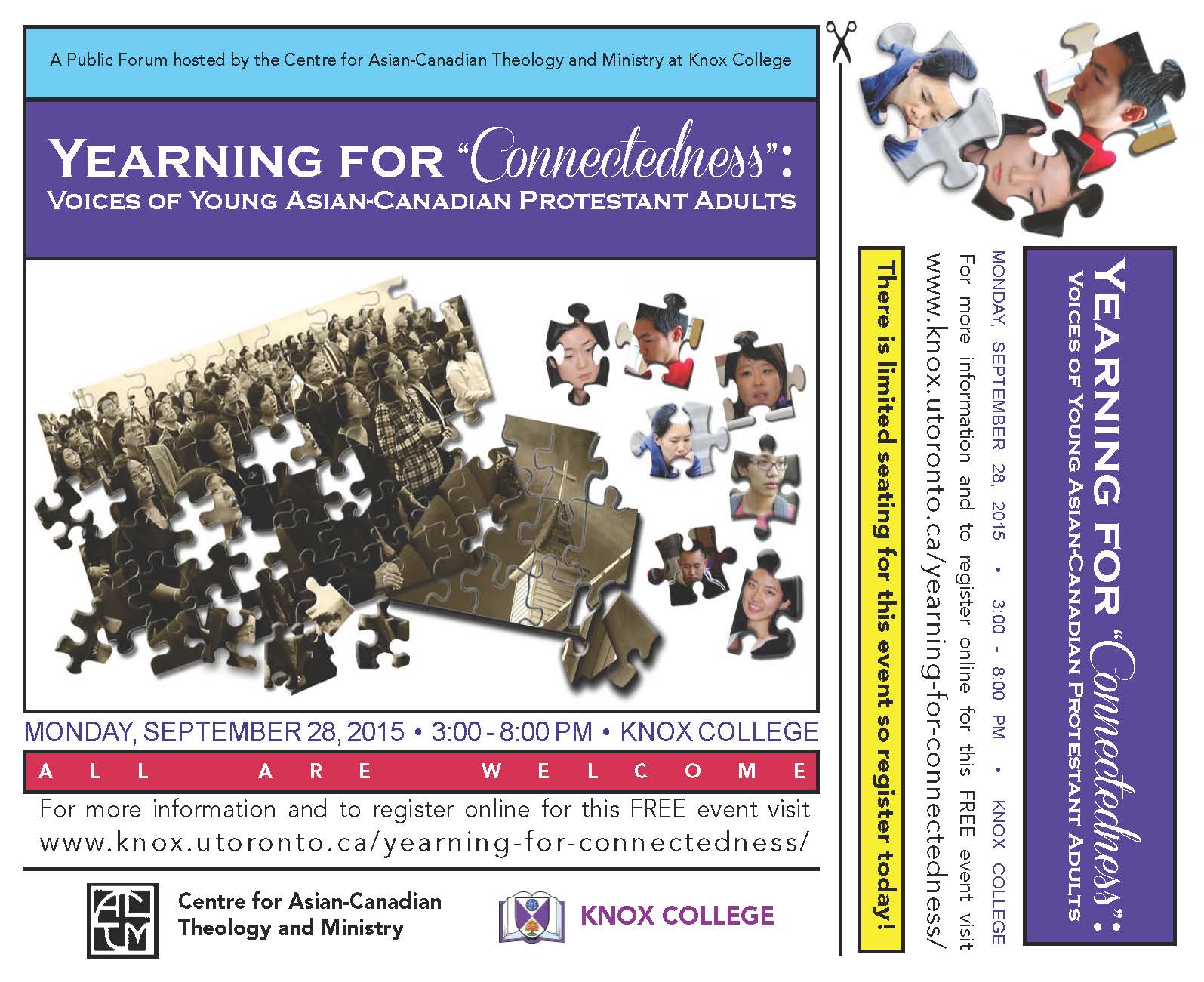 Event Details
"Yearning for 'Connectedness': Voices of Young Asian-Canadian Protestant Adults" - A Public Forum hosted by The Centre for Asian-Canadian Theology and Ministry at Knox College.
This forum will be a chance to discuss the findings from the Centre's recent research project: "Religious Attitudes and Commitments of 1.5 and 2nd Generation Asian-Canadian Protestant Young Adults," in which researchers surveyed 300 Asian-Canadian University students who identify as Protestant to better understand their religious attitudes and commitments to their churches, as well as gauge their ideas and expectations about the church and youth ministry.
This event is FREE but we kindly ask that you register beforehand. There is limited seating for this event so register TODAY by clicking here!
The forum will include presentations from the research team, responses from a panel of youth pastors that minister to Korean, Chinese, Taiwanese and other Canadian churches, and an opportunity for audience members to ask questions and discuss the research. Please visit the event website or click on the event attachment above for more information.
ALL ARE WELCOME!
Date
Date of Event:
Saturday, September 26, 2015
Time
Where
Knox College
59 St. George Street
Toronto, ON M5S 2E6
Contact Info
416-946-0176
Event Details
100 Years of Connections: An Event for the Century
On Saturday, September 26th, Knox will be celebrating 100 years of calling 59 St. George St. home. Please join current students and alumni/ae, current and former residents, friends of Knox, Faculty and staff on the evening of September 26th to mark this auspicious occasion. An evening of fellowship and entertainment, recipients of this year's Knox Former Residents' Association (KNOXFRA) Awards of Honour will also be presented with their awards at this event.
For more information visit the event website here.
To purchase tickets online click here.
Date
Time
Where
Knox College
59 St. George Street
Toronto, ON M5S 2E6
Contact Info
416-978-4500
Event Details
2016 Knox College Convocation
| Teaching Level(s) | College(s) | Department(s) |
| --- | --- | --- |
| Basic Degree | | Pastoral Theology |
| Teaching Level(s) | College(s) | Department(s) |
| --- | --- | --- |
| Basic Degree | | Pastoral Theology |