Knox College
Date
Time
Where
Convocation Hall
31 King's College Circle
Toronto, ON M5S 1A1
Contact Info
416-978-4500
Event Details
More information to come.
Date
Date of Event:
Monday, August 8, 2016
to
Friday, August 19, 2016
Time
Where
Knox College
59 St. George Street
Toronto, ON M5S 2E6
Contact Info
416-946-8425
Event Attachment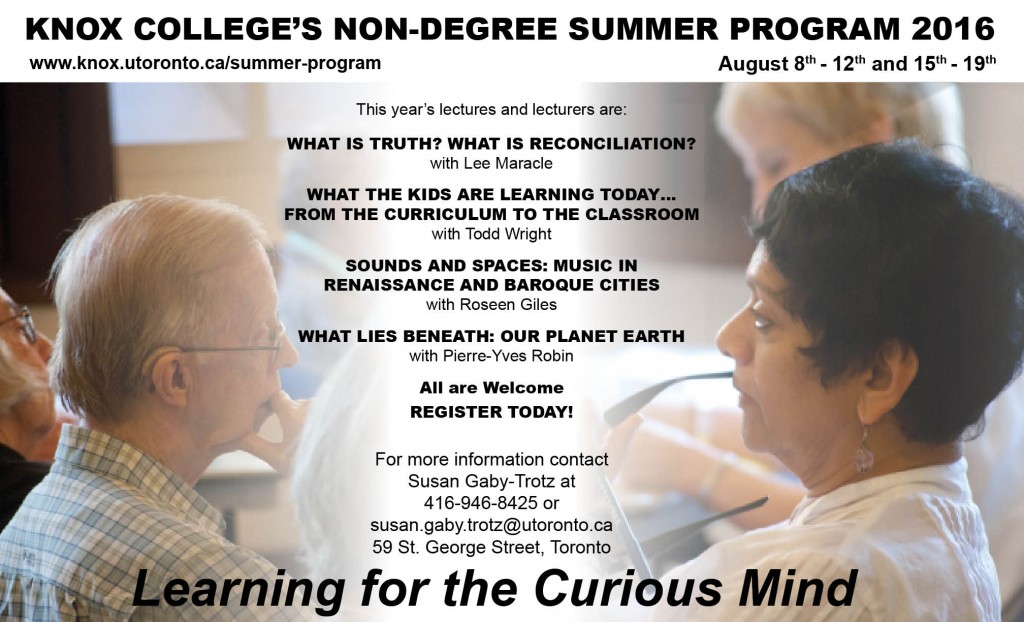 Event Details
Week 1, August 8 - 12
Week 2, August 15 - 19
The Knox College Summer Program is a non-degree morning lecture series for the curious mind. Located at the heart of the University of Toronto's St. George campus, the series focuses on diverse subjects with lectures presented by experts in their fields.
This year's lectures and lecturers are:
What is truth? What is reconciliation? with Lee Maracle
What the kids are learning today… From the curriculum to the classroom with Todd Wright
Sounds and spaces: music in renaissance and Baroque cities with Roseen Giles
What lies beneath: our planet Earth with Pierre-Yves Robin
All are welcome.
For more information including the course schedule and how to register, click here or on the Event Website Link above.
| Teaching Level(s) | College(s) | Department(s) |
| --- | --- | --- |
| Basic Degree | | Pastoral Theology |
| Teaching Level(s) | College(s) | Department(s) |
| --- | --- | --- |
| Basic Degree | | Pastoral Theology |