Lecture/Symposium/Colloquium
Date
Time
Where
Wycliffe College, Leonard Hall
5 Hoskin Avenue
Toronto, ON M5S 1H7
Contact Info
416-946-3535
Event Details
Ancient Scripture, Modern Church: How Should the Bible Inform Ecclesiology Today?
Schedule:
9:15 am - Dr. Philip Turner(Yale, Emeritus): "Ecclesial Reality and the Letter to the Ephesians" Author of Christian Ethics and the Church (Baker)
10:30 am - Dr. Joseph Mangina (Wycliffe): "Ecclesiology in the Gospel of John" Author of Revelation (Brazos)
1:00 pm - Dr. Ephraim Radner (Wycliffe): "Scripture and Ecclesial Futurology" Author of Brutal Unity (Baylor)
2:30 pm - Dr. Catherine Sider-Hamilton (Wycliffe): "John Donne's Reading of Paul: Toward an Anglican Vision of the Church" Editor of In Spirit and in Truth (Regent)
Response: Dr. Andrew Goddard (Cambridge) Author of Rowan Williams: His Legacy (Lion)
Morning refreshments at 9:00 am and lunch will be provided.
All are welcome, no registration is required, but pease let us know you are coming on our Facebook Event Page.
Date
Date of Event:
Thursday, October 15, 2015
Time
Where
Wycliffe College, Sheraton Hall
5 Hoskin Avenue
Toronto, ON M5S 1H7
Contact Info
416-946-3535
Event Details
William T. Cavanaugh is author of Torture and Eucharist and The Myth of Religious Violence.
Dr. Cavanaugh is the Director, Center for World Catholicism and Intercultural Theology and Professor of Catholic Studies at DePaul University and specializes in theology and politics.
This lecture is co-hosted by Regis College and Wycliffe College.
Light refreshments will be provided.
Date
Date of Event:
Wednesday, October 21, 2015
Time
Where
Toronto School of Theology, Boardroom 1
47 Queen's Park Crescent East
Toronto, ON M5S 2C3
Contact Info
416-978-4039
Event Attachment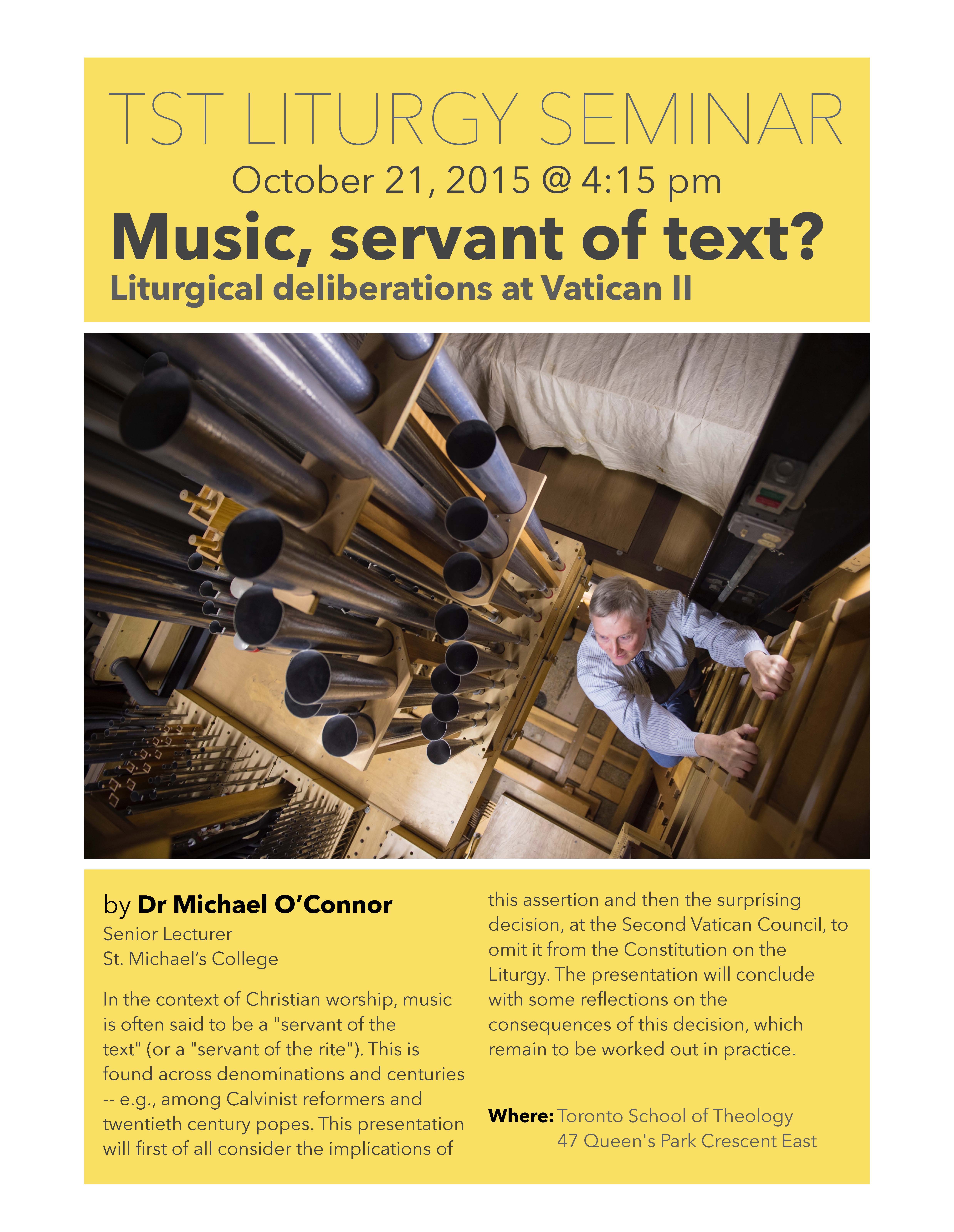 Event Details
Presented by Dr Michael O'Connor, Senior Lecturer, St. Michael's College
In the context of Christian worship, music is often said to be a "servant of the text" (or a "servant of the rite"). This is found across denominations and centuries -- e.g., among Calvinist reformers and twentieth century popes. This presentation will first of all consider the implications of this assertion and then the surprising decision, at the Second Vatican Council, to omit it from the Constitution on the Liturgy. The presentation will conclude with some reflections on the consequences of this decision, which remain to be worked out in practice.
All are welcome!
Date
Date of Event:
Tuesday, October 27, 2015
to
Thursday, October 29, 2015
Time
Where
Wycliffe College
5 Hoskin Avenue
Toronto, ON M5S 1H7
Contact Info
416-946-3535, ext. 2558
Event Attachment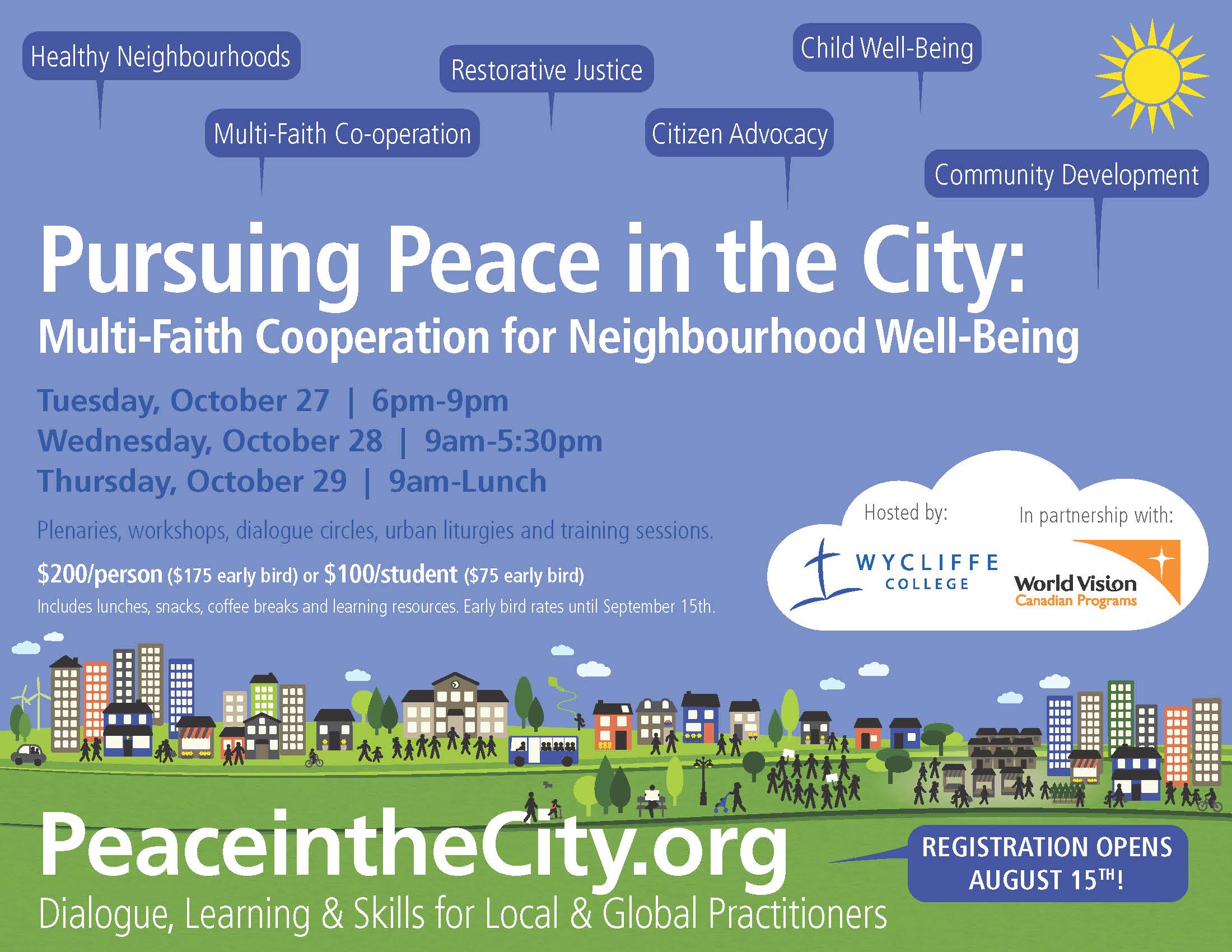 Event Details
For Christian community development organizations, this multi-faith urban landscape demands new knowledge and skills. New ways of working are required if we are to be effective amidst a diversity of cultures, beliefs and practices. Building understanding, relationships and working with Muslims in particular has become a pressing necessity for many community organizations and churches.
Peace in the City Colloquium 2015 is a Wycliffe College event in partnership with World Vision's Canadian Programs team. The event features key plenary events by international experts in multi-faith collaboration, and a range of interactive workshops and training sessions on partnering for neighbourhood well-being.
See full details including how to register here.
Date
Date of Event:
Friday, November 13, 2015
Time
Where
University of St. Michael's College, Charbonnel Lounge
81 St. Mary Street
Toronto, ON M5S 1J4
Contact Info
416-926-1300
usmc.deanoftheology@utoronto.ca
Event Details
Church and University: The St. Michael's Faculty of Theology at SIXTY, presented by William H. Irwin, CSB, BA, MA, STL, SSD (Pontifical Biblical Institute) Professor Emeritus
In 2015 St. Michael's celebrates sixty years of conferring degrees in theology. Theology has two communities it answers to: the community of faith and the community of learning. Without the church it's the study of religion. Without the university it's catechism. But to live in two communities without losing touch with either means continual adjustment. To chart the development of theology at St. Michael's since that first convocation in 1955 is to chart its adjustment to a changing church and a changing university as they adjust to a changing world.
More information about the lecture is available here.
Admission is free. Please RSVP here.