Lecture/Symposium/Colloquia
Date
Date of Event:
Tuesday, October 27, 2015
to
Thursday, October 29, 2015
Time
Where
Wycliffe College
5 Hoskin Avenue
Toronto, ON M5S 1H7
Contact Info
416-946-3535, ext. 2558
Event Details
Peace in the City Colloquium 2015 is a Wycliffe College event in partnership with World Vision's Canadian Programs team. The event features key plenary events by international experts in multi-faith collaboration, and a range of interactive workshops and training sessions on partnering for neighbourhood well-being.
See full details including how to register here.
Date
Date of Event:
Monday, September 28, 2015
Time
Where
Knox College
59 St. George Street
Toronto, ON M5S 2E6
Contact Info
416-978-4500
Event Attachment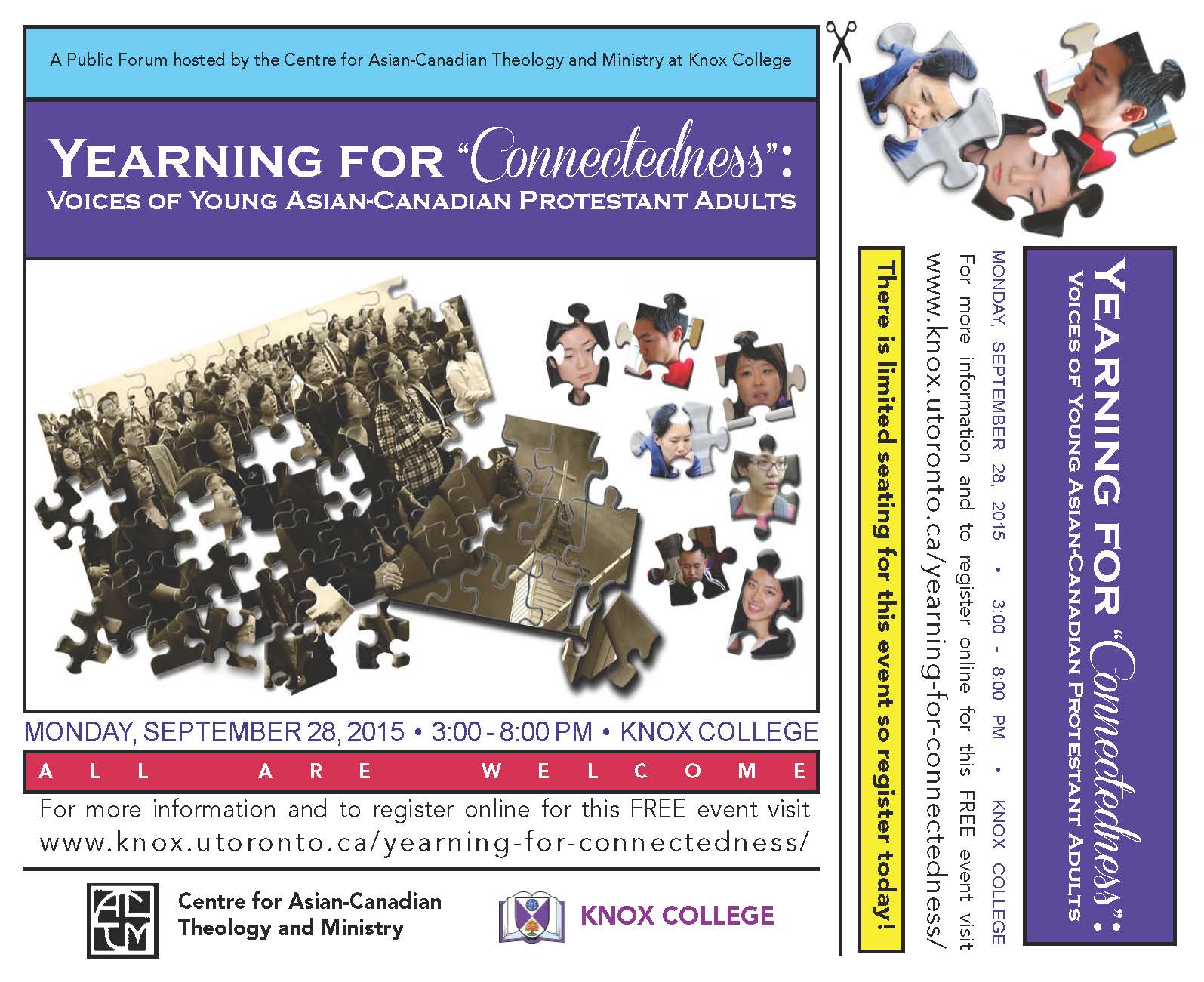 Event Details
"Yearning for 'Connectedness': Voices of Young Asian-Canadian Protestant Adults" - A Public Forum hosted by The Centre for Asian-Canadian Theology and Ministry at Knox College.
This forum will be a chance to discuss the findings from the Centre's recent research project: "Religious Attitudes and Commitments of 1.5 and 2nd Generation Asian-Canadian Protestant Young Adults," in which researchers surveyed 300 Asian-Canadian University students who identify as Protestant to better understand their religious attitudes and commitments to their churches, as well as gauge their ideas and expectations about the church and youth ministry.
This event is FREE but we kindly ask that you register beforehand. There is limited seating for this event so register TODAY by clicking here!
The forum will include presentations from the research team, responses from a panel of youth pastors that minister to Korean, Chinese, Taiwanese and other Canadian churches, and an opportunity for audience members to ask questions and discuss the research. Please visit the event website or click on the event attachment above for more information.
ALL ARE WELCOME!
Date
Date of Event:
Friday, November 13, 2015
Time
Where
University of St. Michael's College, Charbonnel Lounge
81 St. Mary Street
Toronto, ON M5S 1J4
Contact Info
416-926-1300
usmc.deanoftheology@utoronto.ca
Event Details
Church and University: The St. Michael's Faculty of Theology at SIXTY, presented by William H. Irwin, CSB, BA, MA, STL, SSD (Pontifical Biblical Institute) Professor Emeritus
In 2015 St. Michael's celebrates sixty years of conferring degrees in theology. Theology has two communities it answers to: the community of faith and the community of learning. Without the church it's the study of religion. Without the university it's catechism. But to live in two communities without losing touch with either means continual adjustment. To chart the development of theology at St. Michael's since that first convocation in 1955 is to chart its adjustment to a changing church and a changing university as they adjust to a changing world.
More information about the lecture is available here.
Admission is free. Please RSVP here.